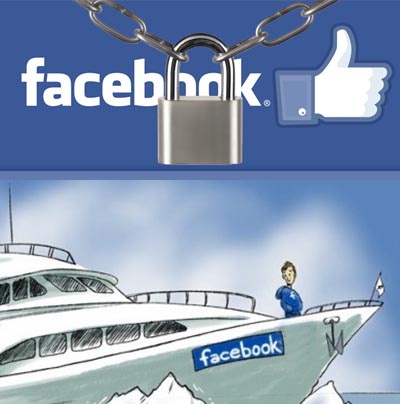 Pitfalls for Members of Facebook Groups
Friends, Groups, Private Messages and Privacy (nor NOT)
by Cecilia Fabos-Becker - Published 2017-10-06
Human Beings are social creatures who want to communicate and share. They especially want to share things and ideas they really like and often will form groups around them, such as non-profit services, clubs, or professional groups like bands that perform music. Some people like some things, ideas and such so much, they form businesses that are interests-based, such as ethnic culture and heritage.
In recent years, we've all been happy to have increased means of and tools for communication and an extended electronic reach to share our interests whether they be a non-profit service, or support for a for profit group, such as a band or a shop, with such things Social Media apps or tools to use it better for communications and marketing. I use Outlook and other programs for emails and personal contacts, and both I and my spouse use Facebook. It's much faster than snail mail, easier to sort lists of sub groups of friends or markets, but, like snail mail, it allows the intended recipients or readers to decide to open, or toss, something or ignore it, and isn't as intrusive as telephone calls which to be effective have to get past an answering machine, especially when deadlines are looming.
However, to our dismay, we recently discovered that Facebook has a number of 'glitchs' in a significant, relatively new ways.
It's an important one that everyone who has joined more than one Facebook Group should be aware of. Likewise anyone who any affiliation with a non-profit or professional entity of his or her own, and is hoping friends will support shared interests, activities and events, and not just the programs put on for or by these separate groups.
Facebook states in its own policy statements and press releases that it is a tool and service that is meant to facilitate communication, sharing and marketing, for all kinds of people and groups (including those using more than one service), within the free platform users have voluntarily 'boarded' called "Facebook." On board Facebook, primarily using the concept of establishing on-line, as well as often in-person, friendships. Facebook allows Sales and marketing by any and individual persons and groups for both for profit and non-profit causes and events. Sharing is allowed, not only with people you already know, perhaps from some other prior experiences, but also those who have "friended" you as individuals or through groups. You may believe a 'friend' will like something or someone, expand their interests and support them. Nearly everyone shares, (markets and communicates) to expand their groups of friends and supporters and support for the things, and people, that interest them. Facebook's mission clearly states that the company and its programs exist to do both and both are specifically allowed.
Facebook is, to a certain extent, like a ship bound for a certain destination. When you board it, you agree you want to go there, also, even though you don't own the ship and don't control it. You only control how you, yourself, interact with it and others on the same ship. The ship company owns the ship and the captain, hired by the ship-owner, controls its operation.
It is one's understanding, or failure to understand, these basics of Facebook that creates the most pitfalls for Facebook users--whether they are individuals or groups. There are also conflicts among the services and programming to perform the services, and what they allow to be done by and/or for users, as individuals and groups, while trying to retain a certain amount of privacy for people who have already accepted this is a platform to communicate and share, and have boarded it.
Here are just a few examples of Facebook policy, lawful use and legal terms statements from 2015 to present:
"You own all of the content and information you post on Facebook, and you can control how it is shared through your privacy and application settings."
"Facebook offers a wide variety of products and services, including communications and advertising platforms. Many of these products and services — such as the Facebook mobile app, _Messenger_, and Paper — are part of your Facebook experience. "
"Groups provide a space to communicate about shared interests with certain people. You can create a group for anything — your family reunion, your after-work sports team, your book club — and customize the group's privacy settings depending on who you want to be able to join and see the group."
(Regarding events or items of interest to one member that said member wants to share with others) "Depending on the size of your group, you'll either be able invite all members of your group or invite all your friends in the group."
This being the crucial one, we invite you to look it up for yourself. Buried deep in Facebook's Help screens, at the URL: https://www.facebook.com/help/1210322209008185/?helpref=hc_fnav and at the very bottom of the page, you will find the very last topic "Can I message members of a group if they are not my friends?" and you can find this answer:
"All members of a group can chat together in group messages, even if they're not all friends with each other. However, only friends can message each other individually and start a one-on-one conversation."
Do you see the potential for misunderstandings and conflicts here? The last two items are especially important for persons who share interests with multiple groups' members and might have events, persons, or things to promote, either for profit or not. It is especially a potential source of conflict for those who are members of MULTIPLE groups, for example, a musical performer and/or Band. Even if you are part-time and earn most of your daily bread in some other occupation, pay attention, what just happened to us, can happen to YOU.
We discovered this Facebook glitch the hard way and informed them of it afterwards. The glitch is in the last two quotes, particularly the last one. If you are a member of group and want to message other groups about an event that interests you and you think might interest them, you may indeed, according to Facebook's policies, send a private message your fellow group members. At the same time, the Facebook "messenger/messaging" process of limits you to enter each individual names one at at time, and allegedly will prevent you from accidentally listing on your "to" line/block those in the group who have not 'friended' you. But this limitation only applies SOME of the time. As Facebook says, groups of a certain size, which we have now observed seems to be any group with under 50 members. Yet, even within groups of smaller size, this implied bit of programming to help you as a message sender avoid accidentally offending someone who is not a friend only works, SOME times--even within a single list of a subset of group members who you believe are your 'friends', because at some point, a group chat among all members of a group is allowed REGARDLESS of whether they are all 'friends'! In the face of accusations that we deliberately sent something to people who are not in some way our friends, we literally spent several days figuring out what had happened and how to avoid it in the future.
This glitch quickly resulted a very unwelcome reminder of the negative social aspects of adolescence. We're still waiting for a response from Facebook - Does anyone know a Facebook Executive out there we can ping in some way?
For many people, including bands and small businesses who are members of many groups, you are now literally going to have to do as we did and check all your Facebook friends lists of every group to which you belong or Facebook generally, which can amount to thousands. You will have to check your professional page 'friends' lists as well as your individual page(s) friends lists--spouses and other family members included. You will have to check your Outlook or other personal contacts data base to verify that you are somehow otherwise friends, (since most such contact programs are meant to somewhat work together these days) to verify who all are really your friends someway or not to DEFEND yourself against the occasional accusation that you deliberately sent something to people who are not in some way a friend of yours.
In particular, it took us hours to try to send what we thought was a personal group message using Facebook's Messenger service, to a small but select subset of friends from a group to which Tony belonged. It took us days to go through the 5,000 Facebook friends through several groups and our own Facebook Pages, and the many thousands more contacts in our Outlook database as well as and internet group contacts we have--that are still people with whom we occasionally communicate or see, to figure out just how few people we might have actually offended. (Precisely 6 individuals).
We operate a weeklyy newsletter with over 3000 subscribers, and an events calendar with thousands of users. For heaven's sake, our AmeriCeltic services are intended to to cover/promote the interests of all the several Celtic ethnicities, and to have a large and expanding outreach to thousands more! Celia has spent 45 years doing and networking information about family history. In just the last five or six years, we have over 10,000 email addresses on just four extended families/clans from members of internet groups, let alone our thousands of Facebook 'friends'!
So people, read all of the policy and services statements of Facebook, watch the news to keep up with their constant experimentation to expand or improve services of ITS platform or ship which we all voluntarily boarded to use their services. Be aware of the contradictions, limitations and glitches--and do not assume that all messaging that you didn't want to receive, and may not have set your own privacy settings to exclude was intentional on the part of the sender. Last, if you group or society that has a group page on Facebook has a policy limiting kinds or frequencies of communications or posting--SAY SO, in writing on the group page and in your other public internet postings about your society and its goals, objectives, and LIMITATIONS and don't slam someone for accidentally violating polices that were not publicized as that person could not have known. The acceptable response would be for an officer to politely send a letter or email to the parties involved.
Facebook, and the other "ships" (social media platforms) using the internet to communicate are all still 'under-construction', with changes being made on a daily basis. Be aware of that. it is good practice to read more, and when you realize how much you have to read, know and understand, to withhold any complaint and instead think about how easy it is to miss something, and stumble into a glitch. What might have been a nice experience or relationship can easily turn into ashes! Let's all hope Facebook fixes a few more of these glitches to make it easier to create and maintain pleasant or successful relationships, or both.
---