---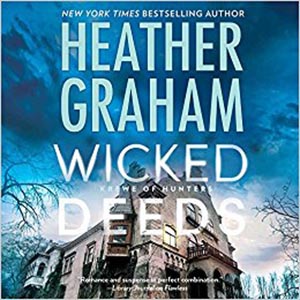 Book Review: Wicked Deeds by Heather Graham, 2017
A Hallowe'en / Samhain Mystery
by Cecilia Fabos-Becker
To many who have grown up with a love of both the Celtic traditional ghost stories, CSI, murder mysteries in general where law enforcement is actually involved in solving them, and romance, Heather Graham Pozzessere is a well known romantic occult mystery writer. Her novel settings are familiar older cities and areas of the U.S.--where else would the best ghosts be? Her female characters are as strong as the males, and she covers a wide range of old fables, legends and historical events. She is known for her characters solving a mystery within a mystery, the past influencing the present. A strong theme is that human nature doesn't change very much across the centuries and genetics can and does sometimes play a role in perception and behavior, sometimes in surprising ways.
I've always enjoyed her stories, especially in autumn and winter, when, as the Celts and other Europeans believed, the increase in darkness is accompanied by a weakening in the veils between the worlds of the living and spirits, and even eras of time. These beliefs are so old and powerful, even the Christian churches acknowledged them, and incorporated them with commemoration of the dead at "All Hallow's Eve" and the following two festival days, "All Saints Day" and "All Souls Day."
Her stories are well written in the classical sense: heroic protagonists, strong villains and conflict, and a resolution of the conflicts, and criminals brought to justice as most people would like to see in real life, at the end. She also explains motive, much better than many writers, even for the mentally ill. She goes into their fantasies and twisted logic with almost surgical precision and then shows how they can live among us, compartmentalize, and not be suspected until they commit horrible crimes. She shows us the other side of the usual statement by friends and relatives of a murderer, "we never suspected a thing; he/she was always a nice person, a good boy/girl, in our neighborhood."
This year, Ms. Graham has outdone her self, though and come up with one of the best, classic tradition murder mysteries of all, Wicked Deeds set in the beloved city of the father of both horror stories and murder mystery-detective stories, Baltimore, and featuring none other than the father of both genres himself, Edgar Allan Poe. A new restaurant dedicated to Mr. Poe has opened and the Poe Society itself meets there. There is even a gift shop with kitschy souvenirs like bobble-headed ravens. Two new members of an elite FBI unit called the "Krewe of Hunters" who combine modern forensics, old fashioned Poe and Arthur Conan Doyle style investigation, and an ability to communicate with ghosts, who love being FINALLY noticed and able to participate in on-going living lives, have decided to have a honeymoon in Baltimore, and to try out this new restaurant with great preliminary reviews. Where else would FBI agents who work with ghosts go, especially in late summer or early autumn in the waning seasonal light, for a honeymoon? They've picked a poor time, of course, as someone seems to have taken offense at the restaurant and the Poe Society, and has begun murdering writers in modern variants of the old Poe themes in his better-known horror stories. Poe's ghost knows about this, is indignant and wants it stopped. Poe's own death was a mystery and his reputation was heavily damaged by a jealous rival afterward. His instincts say that at the bottom of the mystery, history is trying to repeat itself, but he also can't remember most of his own last days. So the Krewe, this time, is solving two mysteries: the modern imitator of fictional horror, and Poe's death itself.
It has a number of twists, turns, and surprises and many of Poe's stories show up in interesting, unexpected ways. There is a major stunning insight about the importance of perception and how jealousy can become insanity. You will never dismiss jealousy lightly again after reading this novel. It's the best Hallowe'en novel I've read in a long time, and a real tribute to the father of the two genres of horror and detective stories.
So, after you've handed out the treats to all the modern little ghouls, ghosts and goblins, treat yourself to a sold read of this book. Make yourself a nice hot cup of blood-red mulled wine, settle in a comfy bed with plump pillows in a darkened bedroom, lit only by your favorite old-fashioned hurricane lamp casting a soft golden glow. Then the shadows darken and grow, and perhaps a raven flaps its wings, as it passes your window in the moonlight and moves to another nearby tree outside before perching and watching what happens next...
---