AmeriCeltic Newsletter
Published Friday, 2017-07-21
Dear AmeriCeltic Reader,

AmeriCeltic.net is a non-profit public service, supported by you, our readers.

Your donation of any amount is very welcome and will help us prepare and distribute these newsletters, continue our public outreach, as we did hosting the AmeriCeltic booth at the Mother Lode Scottish Games last month, and support our Mission. (See below)


Read more about our work on our website here: www.AmeriCeltic.net/about

Subscribe to our YouTube Channel!


News, Features, & Events

Updates:
• We have added several more playlists to our AmeriCeltic YouTube Channel, featuring our regional bands & including dozens more videos! Click Here to check them out! Don't forget to subscribe, too!

Events:
• TONIGHT, Friday July 21st, Celtic fusion band Corca Baiscin plays at the UICC in San Francisco! (See Below)
• TOMORROW Saturday, July 22, Erica and Friends bring their upbeat mix of traditional of pub songs, ballads, jigs and reels to Kensington Circus Pub in Kensington. (See Below)
• On Friday, July 28th The legendary Lark Camp begins, deep in the redwood forests of Mendocino County. (See Below)
• On Friday, August 4th, the new, Silver Apple Scottish Fiddle School, begins in the idyllic Santa Cruz Mountains. (See Below)
• On Saturday, August 5th, Lee Corbie-Wells, and her latest project, Kaptain Bottletop, return armed with Hardanger Fiddles, (Double the strings / Double the fun!) at the Art House Gallery in Berkeley. (See Below)
• On August 5th & 6th, its the 50th Annual Monterey Scottish Games & Celtic Festival, in Monterey. (See Below)
• On August 6th, David Brewer's latest project, The Fire Scottish Band, begins a summer long Tour including many Camps and Concert dates in Northern California. (See Below)
• On August 13th, Mary Black's Last Call Tour plays The Great American Music Hall, in San Francisco. (See Below)
• On August 17th, Stuart Mason & John Weed have a CD LAUNCH PARTY with workshops and a concert, in Mountain View. (See Below)
• On August 19th, The Festival Of The Sea returns to Hyde Street Pier, in San Francisco. (See Below)
• Beginning August 23rd, Supergroup, The New World String Project featuring John Weed, Aryeh Frankfurter, Lisa Lynne, Stuart Mason, tours the West Coast. (See Below)
• And on Labor Day weekend, September 2nd & 3rd, it the 152nd Scottish Highland Gathering and Games, at the Alameda County Fairgrounds in Pleasanton. (See Below)

Scan our feature articles below, or as always, you can click here to check the next month of listings on our website.
---
Be a Celtic Hero!
Donate to AmeriCeltic,
and we will add your name here: www.AmeriCeltic.net/sponsors
---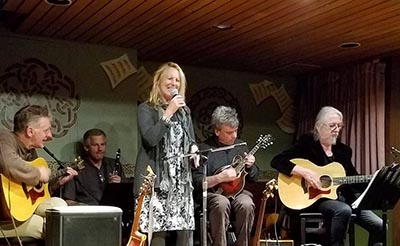 Irish Celtic fusion band: Corca Baiscin
(pronounced Kurka Boshkin)
Friday July 21st, 6:30pm - 9pm
United Irish Cultural Center, 2700 45th Ave, San Francisco
with featured guest, Melanie O'Reilly
Join us for a fun and relaxing evening of Celtic fusion...' with Corca Baiscin serves up Irish traditional, with a contemporary kick, A unique musical fusion with a contemporary twist, underpinned by exciting rhythmic pulse!
Corca Baiscin features: Phelim Egan - button accordion, Pat Duffey -guitar, Susan Worland -fiddle and Melanie O'Reilly - guest vocalist.
The UICC serves delicious food! Be sure to reserve a table in advance! Call: (415) 661-2700
---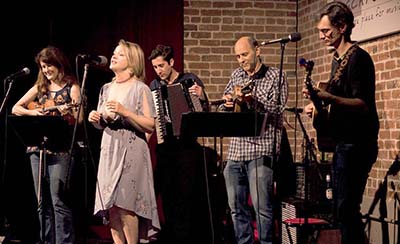 New Band: Erica and Friends
Three Upcoming Bay Area Appearances
Erica and Friends is the new Bay Area folk and traditional band based in Berkeley, that is putting out a mix of upbeat jigs and reels, pub songs and ballads from around the British Isles and Ireland. They are destined to become one of our great regional folk music resources; hear them if you can.
For the new Erica Hockett and Friends video, just Click Here! For even more of their music, check their Soundcloud site, or their Reverbnation site!
Erica and Friends Appearances
• Sat Jul 22, 2017, 8:00pm @ The Kensington Circus Pub, Kensington
• Sun Jul 30, 2017, 5:00pm @ The Ivy Room, Albany
• Sun Aug 27, 2017, 8:00pm @ The Chieftain, San Francisco
For more on Erica and Friends, check their Facebook Page here!
---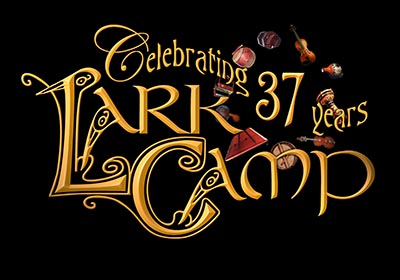 Lark In The Morning's 37th Lark Camp
Music, Song & Dance Celebration July 28 - August 5, 2017
Worldwide Workshops, Including Extensive Celtic Music and Song!
Unique in California, Lark Camp provides an open forum for the exchange of creative ideas between musicians, singers, dancers and composers. The Lark Camp experience is enhanced by motivational instructors and inspired students, who also share their passions and skills with the rest of the participants, while have one @&%!** of a good time!
For Lisa Lynne's Lark Camp Video, Click Here!
Lark Camp Adult & Family Camp features Music and Dance from the World Over
Music, Song & Dance Workshops • Cabins • Dances • Parties • Sessions • Great Food • Dance Hall • Dining Hall • Camping • Fire Circles • Mendocino Woodlands Redwoods • Full Camp 8 Days or Half Camp 4 Days
Lark Camp 2017 Registration Is Open Register Now to save your place.
Imagine idyllic days & nights in the magical redwood forest filled with all the music, dance, and good times you could possibly stand, and that's kind of close to what Lark's Music Celebration is like. You are free to take as many or as few of the workshops offered as you like; jam sessions 24 hours a day, big dances every evening. Plenty of good food, new friends, and musical stimulation. Truly a unique total immersion into the joys of nature, music and dance. Many workshops for the professional as well as the beginner!
To review the Lark Camp Music & Dance Staff 2017, Click Here. For pictures and videos of past Lark Camps Click Here, or check the history, layout, what happens at camp, and much more, at the Lark Camp website, larkcamp.com.
---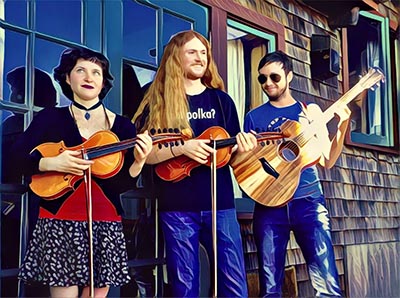 Kaptain Bottletop at the Art House!
Saturday, August 5 at 7:30 PM - 10 PM
Art House Gallery and Cultural Center, 2905 Shattuck Ave, Berkeley
Kaptain Bottletop is back, playing Norwegian, Swedish and AmeriCeltic fiddle music: with hardanger fiddles! Double the strings / Double the fun!
David Boyden: violin, hardanger d'amore
Lee Corbie-Wells: violin, hardanger d'amore, vocals
Alex Hand-Miller: guitar
Ehler Orngard: violin, banjo.
For a pair of Kaptain Bottletop videos, click here: https://www.youtube.com/playlist?list=PLY_8PgYew2oqvO0VBa2d-Pbrn3jUOf9_v
Also, we're very much looking forward to hearing Metanastys, who will open the show with awesome Greek music! Zina Pozen on accordion and Jarolim Gayri with his bouzouki and intense vocals! Check it out for yourselves: https://youtu.be/2XLMvO7VaAw.
This is a potluck, so bring a dish if you like! It is wheelchair accessible, and there is a $15-25 donation at the door.
https://www.facebook.com/events/1876514309337878
https://www.facebook.com/kaptainbottletop
---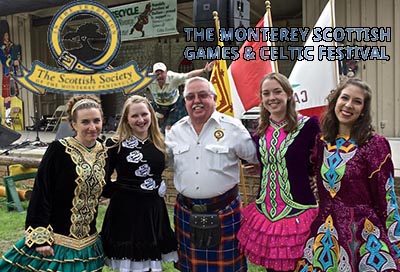 50th Annual Monterey Scottish Games & Celtic Festival
Saturday, August 5th - Sunday, August 6th
Monterey County Fairgrounds, 2004 Fairground Rd, Monterey
Travel to Scotland, Ireland and England without leaving the Monterey Peninsula. Come out and celebrate Scottish culture, traditions, athletic competitions and entertainment. The Monterey Scottish Games & Celtic Festival offers a variety of live Celtic entertainment including the very popular humorous Irish singer/songwriter Seamus Kennedy.
For a video of a past Monterey festival, Click here!
Ticket Prices (pre-sale @ www.montereyscotgames.com) :
One-Day Adult - Presale $15.00 - At Gate $20.00
One-Day Senior (65+) Military or Child (9-15) - Presale $12.00 - At Gate $15.00

Two-Day Adult - Presale $20.00 - At Gate $30.00
Two-Day Senior (65+) Military or Child (9-15) - Presale $15.00 - At Gate $20.00

Children 8 & under free
Attractions include, the thrilling sights and sounds of the massed pipe bands on parade featuring hundreds of pipers and drummers, exciting Scottish heavy athletic competition events seen in award-winning films such as Braveheart, Rob Roy and Brave, including the famous caber toss, hammer and stone throw, weight for distance and height, and the sheaf toss, talented Highland, Country and other types of costumed dancers, dozens of clans, two very popular whisky tasting seminars, delicious Celtic food, beautiful jewelry and craft, sheepdog and duck herding.
Vendors offer tasty and British and Scottish food and drink, and unique Scottish, British and Irish crafts, jewelry, clothing, and music that will be enjoyed by all. There's always great shopping with authentic products imported from Scotland, Ireland and England and hand-made items with Celtic themes.
Step back in time with costumed historical re-enactment Groups depicting life in 16th Century Scotland or meet and greet for tea with Mary Queen of Scots. Festival attendees will also enjoy researching their own clans at the clan and Celtic association tents as they stroll through the Avenue of Clans.
There are lots of fun interactive children's games activities planned for the wee ones at the Children's Glen, too. Little ones can participate in scaled down athletic events (mini-Caber toss, pillow over the bar, mini braemar stone putt), plus enjoy fun Celtic craft projects and the popular Celtic Quest. Don't miss the popular whisky tasting seminar that celebrates one of Scotland's greatest exports-fine, single malt Scotch whisky. Learn more about the history, distillation process and various tasting characteristics of fine whiskies. Guinness beer and other beverages are abundant as well.
For more information: www.montereyscotgames.com or call 831-682-2022.
---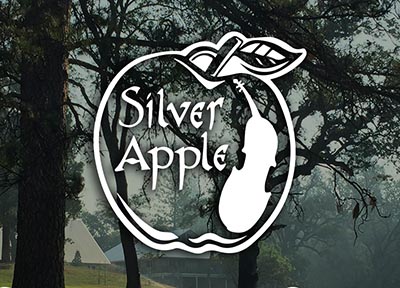 Silver Apple Scottish Fiddle School
August 8th to 13th, 2017, Loma Mar, Santa Cruz Mountains
Colyn Fischer | David Brewer | Rebecca Lomnicky | Shauna Pickett-Gordon
Silver Apple Scottish Fiddle School, at the beautiful Redwood Glen retreat in Loma Mar is a five-day immersion in traditional Scottish fiddle music! Led by three-time U.S. National Scottish Fiddle Champion and judge Colyn Fischer and acclaimed pianist Shauna Pickett-Gordon, we will explore this ancient tradition from the Golden Age of Scots fiddle in the 18th century to today.
The Camp includes group classes for musicians of varied levels, private and semi-private lessons, coaching in composing and arranging, accompaniment styles, small-group ensembles, Scots singing, ceilidh dancing, and more.
The Instructors are Colyn Fischer - fiddle; Rebecca Lomnicky - fiddle and dance; David Brewer - whistles, pipes, bodhran, guitar; Shauna Pickett-Gordon - piano, accompanying, arranging, singing.
The all-inclusive fee of $650 per camper covers three meals a day, room, bed and bath linens, all classes, lessons, coaching, sessions, and other camp activities, faculty concert in Pescadero, and printed music that is handed out at camp.
See the website, silverapplefiddleschool.com, for details, FAQ, and contact info.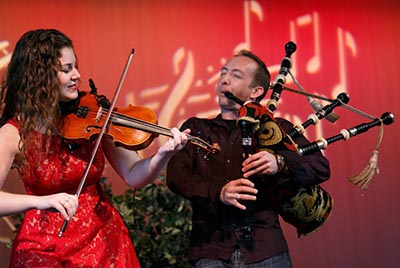 Brewer & Lomnicky and Fischer & Pickett-Gordon in Concert
7:30 pm Friday August 11
Pescadero Community Church, 363 Stage Road, Pescadero
$20 adults / $10 for students 8-18 and seniors / Kids under 8 free with adults.
Bring your instruments, because there will be a session afterward!
For info on the concert, click here.
Brewer & Lomnicky
Rebecca Lomnicky (fiddle) and David Brewer (whistle, bagpipes and bodhran) are two-thirds of The Fire, touring their high-energy pure-drop traditional Scottish music trio through Northern California this summer and fall. (See Below, The Fire, for more)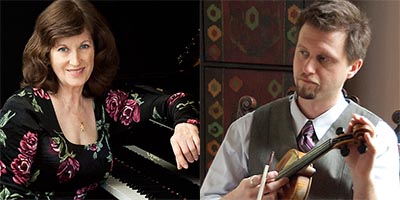 Fischer & Pickett-Gordon
Colyn Fischer (fiddle) and Shauna Pickett-Gordon (piano) bring you the compelling and classic music of the Scottish fiddle masters, their own Scottish-inspired and 'Jazzeltic' melodies, and their trademark improvisations, image-laden and irresistible. Virtuosic violinist-fiddler Colyn plays with stunning beauty amid the warm, mellifluous 'surround sound' of pianist-arranger Shauna Pickett-Gordon. Together they will evoke other worlds and long-forgotten memories.
---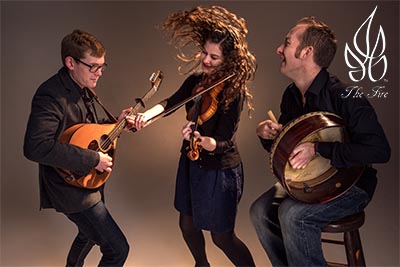 The Fire Scottish Band
The Fire is a high energy pure-drop Traditional Scottish music trio, featuring Rebecca Lomnicky on fiddle, David Brewer on whistle, bagpipes and bodhran, and Adam Hendey on guitar and bouzouki.
In this video, The Golden Penny - Official Music Video - The Fire, The Fire, performs New Single & Official Music Video: The Golden Penny from their upcoming EP!
All three members of the trio have each spent copious amounts of time delving into the traditions of their respective instruments, with Rebecca and David having additionally lived and studied in both Edinburgh and the highlands of Scotland. Together, The Fire performs captivating Scottish music which bridges the gap between the fiddle and bagpipe music of Scotland—two worlds united, into a heartfelt and rousing musical experience. With their entertaining and informative stage banter, vast array of instrument combinations and extensive repertoire, including everything from soaring slow airs to intricately arranged dance tunes, these charismatic performers will leave you on your feet with your hands together.
"A masterful blend of subtle fiddling and hard-driving piping" - Kithfolk Roots Music Magazine
"What a fantastic performance these performers give. Rebecca sparkles on the fiddle while David plays several types of bagpipe, flute, whistle and guitar and does it all with unreal energy and verve." -Jack Baker, Irish American News
The Fire Northern California Tour
• Mendocino, CA - July 28 to Aug. 4 - Lark World Music Camp (Instructors: David & Rebecca)
• Santa Cruz, CA - July 31 to Aug. 1 - Community Music School of Santa Cruz Kids Trad Camp (Instructor: Adam)
• Santa Cruz, CA - August 6 - Cabrillo Festival of Contemporary Music
• Loma Mar, CA - August 8-13 - Silver Apple Scottish Fiddle School (Instructors: Rebecca & David)
• San Francisco, CA - August 19 - Festival of the Sea
• Pleasanton, CA - September 1-3 - The Caledonian Club of San Francisco Scottish Highland Gathering & Games
• Pacifica, CA - September 9 - Pacifica Performances
• Fresno, CA - September 16 - Fresno Scottish Highland Games
• Grass Valley, CA - September 29 to Oct. 1 - KVMR Celtic Festival
• Felton, CA - October 7 - Big Trees Scottish Gathering and Highland Games
More details on The Fire at firescottishband.com.
---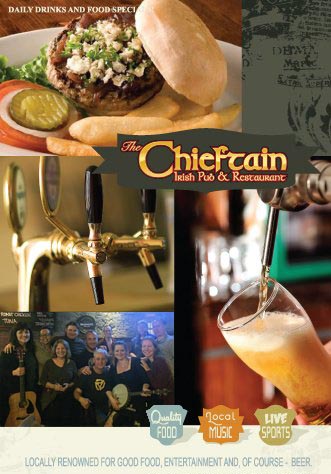 Chieftain Irish Pub & Restaurant
198 5th St, San Francisco, CA 94103
The Chieftain Irish Pub & Restaurant, is a bustling SoMa spot with Irish pub grub & beers on tap plus sports on the satellite TV.
This local Irish Pub brings the culture of Ireland to San Francisco, offering a full bar, Happy Hour specials, and a full Irish restaurant menu, including favorites like fish and chips which goes with any style of sport, music or fun.
"I am in the city every 2-3 months and The Chieftain is an absolutely integral part of every trip. Mark runs an amazing, authentic Irish pub. Major plus, the only place I know of in northern California to get Kilkenny!!"

"Walked in, Saturday night about 7pm and there was a table right inside the door. We had a shepherds pie and an Irish stew. The shepherds pie was actually made with lamb! The live music was great entertainment too!"
For a video of some Chieftain's food menu, Click Here.
The Chieftain regularly hosts live music on Fridays and Saturdays, and on Sunday Aug 27, 2017, at 8:00pm, features Erica and Friends the new traditional band from Berkeley. (See above).
AmeriCeltic readers will be particularly interested in the live Irish traditional music and song session every Sunday evening. Here is a sample from 2009: Live Irish Music at the Chieftain.
For the latest happenings, check the Chieftain facebook Page, or call 415-625-0436, or email Mark Nagle at mark@thechieftain.com or check www.thechieftain.com.
---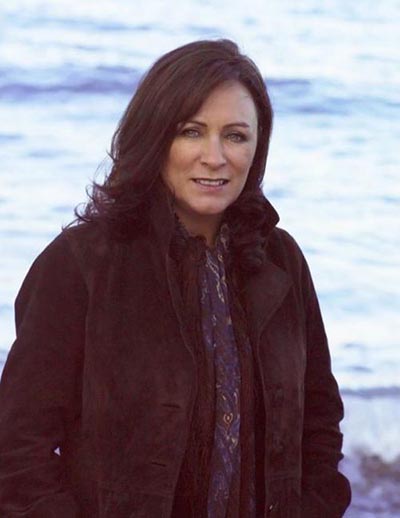 Mary Black 'Last Call' Tour
Sunday, August 13th, Doors @ 7:00pm / Show @ 8:00pm
Great American Music Hall, 859 O'Farrell St, San Francisco, CA
Mary Black is very happy to announce the second leg of her Last Call tour in the USA. As there were so many towns and cities where Mary didn't get to say farewell in the first time around, so she has decided to return in July/August 2017. (Of course, this means she will not be playing the places she visited on the first leg of her Last Call tour.)
"I was feeling guilty about leaving out so many great places on the Last Call Tour in the US and so I'm delighted to be able to rectify this by going back for the second leg - really looking forward to this Summer tour." - Mary
• Seated Show
• $45 advance / door
• $69.95 dinner
Advance Tickets Online at https://www.eventbrite.com/e/mary-black-gamh-tickets-32418010141
For a video of Mary Black @ The 2016 Blue Mountains Music Festival, Click Here!
More info on Mary Black: https://www.mary-black.net
More on the Great American Music Hall: http://www.slimspresents.com/event/mary-black-gamh/
---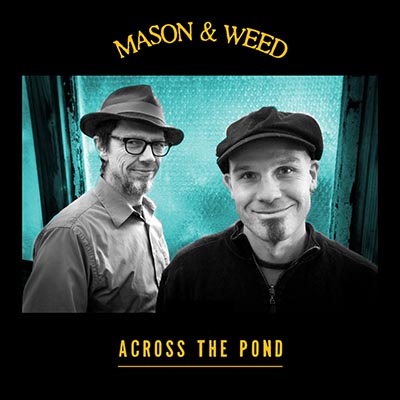 Stuart Mason & John Weed
CD LAUNCH PARTY
Workshops & House Concert
Thurs. August 17 3:00pm – 10:00pm in Mountain View
Silicon Valley House Concerts Presents: Stuart Mason & John Weed of Molly's Revenge - Irish Fiddle • American Songs
• Irish style guitar workshop: 3PM sugg. donation of $25
• Irish fiddle workshop: 5PM sugg. donation of $25
• Potluck dinner: 6:45PM
• Concert: 8:00 sugg. donation of $20
• Reservations/info: SV.houseconcerts@gmail.com
The new Mason Weed album, Across the Pond, is available to purchase. Click Here!
John Weed (fiddle) and Stuart Mason (guitar, mandola, banjo) have worked up a batch of new tunes and songs for their first recording as a duo, ranging from early American ballads and songs newly composed by their peers to beautiful melodies with Celtic and Nordic roots. True to their love of American old timey music and Irish trad while expanding the repertoire with tunes and songs that reflect their life long love of traditional music from all eras and all regions.
Traditional Appalachian, blues, and Celtic music dig deep into the roots of bluegrass music. Long before the time of Bill Monroe and Ralph Stanley and the Carter Family, rural Americans were singing and fiddling the ballads and dance tunes of Britain and Ireland, as well as the sentimental and comedy hits of the wildly popular minstrel shows. John Weed and Stuart Mason play compelling, exciting music that explores the connections between Ireland, Scotland and America, both ancient and modern. On fiddle, guitar, mandola, and banjo they bridge the Atlantic to summon a music that resonates with every audience.
More Details at masonweedmusic.com.
---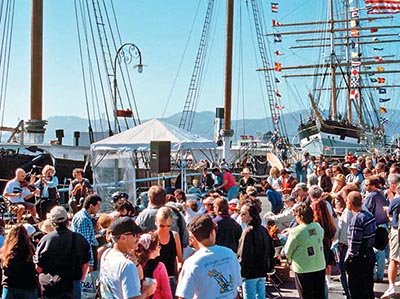 Festival Of The Sea
Celebrating the Evolution of High Tech on the High Seas!
Saturday, August 19, 9:30am-5:00pm | Hyde Street Pier, San Francisco
Fast track your knowledge of maritime history with activities and music at San Francisco Maritime National Historical Park's 2017 Festival of the Sea. This year, the Festival's theme is 'High Tech on the High Seas: The Evolution of Maritime Culture and Technology.' Learn about capstans, the 1907 Hercules' powerplant, and other 'engines that made a difference' while sampling traditional music from internationally renowned acts and local performers on three stages at Hyde Street Pier. This is a chance to 'Find Your Park' on the San Francisco waterfront!
Family-friendly activities will include: knot tying; rigging, caulking, steam bending, and rope-making demonstrations; a small boat launch; sail raising; living history performers; kids craft stations; and, as ever, lots of music from two outdoor stages and aboard Balclutha and Eureka.
Performers scheduled to appear: Kevin Burke, Diana Gameros and Maria Jose Montijo, Shay Black, The Holdstocks, Bu Falle African Drum and Dance Ensemble, Maureen Brennan, Ron and Natalie Daise, The Dogwatch Nautical Band, Patrick Landeza, Richard Adrianowicz, Simon Spalding, The Fire, Brass Farthing, Chris Maden, Megan Messinger, Sean Wahl, Laurel Wong, Amelia Hogan, Basil Trollop and Friends, Susan Walsh, Penny Opry, Steve Canright, Erin Rose Conner, and Bartholomew Faire.
Here is a sample video from 2011.
FOREPIER STAGE
10:30-11:05 Basil Trollop and Friends
11:10-11:50 Simon Spalding
11:55-12:30 Ron and Natalie Daise
12:35-1:15 The Holdstocks
1:20-1:55 The Fire
2:00-2:45 Brass Farthing
2:50-3:30 Patrick Landeza
3:35-4:10 Chris Maden

MIDPIER STAGE
12:00-12:45 Diana Gameros and Maria Jose Montijo
1:00-1:45 Ron and Natalie Daise
2:00-2:45 Kevin Burke
3:00-3:45 The Fire
4:00-4:40 Bu Falle African Drum and Dance
4:50-5:30 Finale, all hands

EUREKA
11:00-11:50 Emerging Performers: Megan Messinger / Sean Wahl / Laurel North
12:00-12:50 Irish Traditions: Shay Black / Maureen Brennan / Kevin Burke / Amelia Hogan / Susan Walsh / Suzanne Friend
1:00-1:50 Instruments That Went To Sea; Dogwatch Nautical Band / Penny Opry / Simon Spalding
2:00-2:50 Forebitters and Modern Songs: Richard Adrianowicz / Steve Canright / Erin Rose Conner / The Holdstocks / Chris Maden
3:00-3:45 Dogwatch Nautical Band
San Francisco Maritime National Historical Park, located at the west end of Fisherman's Wharf, includes a fleet of historic ships, Visitor Center, Maritime Museum, Maritime Research Center, and the Aquatic Park Historic District.
All events and entry to ships FREE that day! No reservations or advance ticketing. For more information, please call visit nps.gov/safr or call 415-447-5000. Twitter @SFMaritimeNPS, and Facebook @SanFranciscoMaritimeNHP.
Contact:
Lynn Cullivan
415-561-7006
---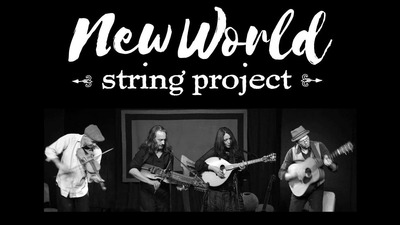 The New World String Project
John Weed • Aryeh Frankfurter • Lisa Lynne • Stuart Mason
Extraordinary instruments and heartwarming music in Celtic, Nordic and American folk traditions.
Science tells us that cross pollination can result in hybrid vigor that transcends the sum of its parts. In a parallel vein, the vibrant West Coast traditional music community has given birth to Supergroup New World String Project, featuring John Weed, Aryeh Frankfurter, Lisa Lynne, and Stuart Mason.
In this video, https://youtu.be/kjh06Qa1oag, you can see and hear how this party started. "Once we got airborne, we knew that something special was happening here!"
These four highly skilled and well known multi-instrumentalists have joined forces to create an exciting weave of music rooted in the Celtic, Nordic and American folk traditions. Ancient and modern sounds mingle freely on Swedish nyckelharpa, Celtic harp, fiddle, guitar, cittern, mandola and more. Join the New World String Project for a musical ride that will shake your boots, uplift your spirit and warm your heart.
New World String Project Tour
• Wednesday August 23, Boathouse Theater at Valhalla Tahoe, Lake Tahoe, CA, Lisa and Aryeh with special guests, valhallatahoe.com
• Thursday August 24, University of Earth, Feather River Campus, Web: uofearth.org, Contact Rick Silver rich@UofEarth.org
• Friday August 25, 7:00 PM, SLO House Concerts, San Luis Obispo, CA, slohouseconcerts@gmail.com, slo-houseconcerts.com
• Saturday August 26, KCBX/Live Oak Festival benefit, Painted Sky Studios, 715 Main St, Cambria CA 93428, ph: (805) 927-8330, paintedskystudios.com
• Sunday August 27, House Concert, Bradley CA, Off Bryson-Hesperia Road, Near Lake Nacimiento and Lake San Antonio, Contact Barbara at bwonsmith@gmail.com
Check out their kickoff concert tour around the West Coast at https://newworldstringproject.com
---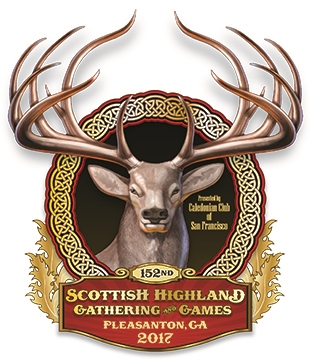 152nd Scottish Highland Gathering and Games
Alameda County Fairgrounds, Pleasanton
Labor Day Weekend, September 2nd & 3rd, 2017, 9AM to 6:30PM
What if you gave a party and EVERYBODY came?
Come join us for some Celtic Craic! Saturday September 2nd and Sunday September 3rd at the enormous Alameda County Fairgrounds, 4501 Pleasanton Ave., Pleasanton, the Caledonian Club of San Francisco presents The 152nd Pleasanton Scottish Highland Games, two glorious days of fun and entertainment for the whole family from 9am to 6:30pm.
Advance tickets are still available, adults $20, youth/seniors $11, and military and ages 11 & under free or call 1-800-713-3160
Click here to watch the official preview video.
Entertainment and Activities!

• Albannach
• Brother
• Browne Sisters with George Cavanaugh
• Ed Miller
• Golden Bough
• Michael Mullen ~ Trio of One
• Neil O'Neill
• Peter Daldry
• Tempest
• The Fire
• The Royal Scottish Country Dance Society
• Erin Ruth Thompson
• Plastic Paddy
• Alasdair Fraser & the SF Scottish Fiddlers
• Harpers Hall
• Kirsty Fitch

The Festival includes more than 30 pipe bands from the US and Canada, plus the 3rd Marine Aircraft Wing Band, to the 42nd U. S. Invitational Heavy Event Championship with professional and amateur athletes, and the Western U. S. Open Highland Dancing Championships. There are 6 stages of Traditional and Celtic Rock music, 2 stages of Scottish dancers, fiddlers, harpers, dancers and singing, and an Irish Pavillion (Bldg. Q) with Irish dancers. For shopping, check out the 5 large exhibition buildings with more than 100 vendors including, British food and drink and the popular Whisky Tasting Pavilion.

Add to that the Living History area with Mary Queen of Scots and her entourage, highland warriors, an invading Roman Legion and fierce Vikings, the Gathering of the Clans providing historic information from nearly 100 clans and societies, Sheep Dog Trials, Children's Glen, Birds of Prey, Semi-Pro Five-A-Side Soccer Tournament, Kilted Mile, Rugby and Shinty Tournaments, Highland Cattle, Clydesdale Team, Archery participation and an array of British motor cars and you have a full Labor Day weekends worth of entertainment.

Graham McTavish, star of Outlander and The Hobbit, will be joining the Party!
For more, check www.thescottishgames.com, or call: 1-888-769-2345.
---
Be a Celtic Hero!
Donate to AmeriCeltic,
and we will add your name here: www.AmeriCeltic.net/sponsors
---
Wanna help, comment or get published?
We publish articles or comments that relate to our Mission (see below), to our thousands of Celtic concordant readers. If you have one, email us: Tony and Celia Becker, americeltic@gmail.com

Click here to switch to the live AmeriCeltic Calendar, covering the Bay Area.
Click here to switch to the live Celtic Events Calendar, from Chuck Jamison, covering the Central Valley. To submit an event for listing in our Calendar, email your event info., including Who, What, Where, Why & Description to us at, americeltic@gmail.com, or Click Here to use the online form.
We love videos! Include a link to an online video, and you will likely get featured in this weekly newsletter!
---
---
AmeriCeltic Mission
AmeriCeltic is an all volunteer, non-profit organization. Our Mission is to restore awareness, celebrate and preserve the culture and history of Americans of Celtic descent in Northern CA by promoting Celtic events & history. Our volunteers cover all the Celtic related events in Northern California, with an accurate and up-to-date description of each. To help fund our efforts, click the 'Donate' button above or on our AmeriCeltic Website www.americeltic.net.