Dear AmeriCeltic Reader,

AmeriCeltic.net is a non-profit public service, supported by you, our readers.

Your donation of Any Amount is very welcome and will help us prepare and distribute these newsletters, continue our public outreach, as we did at the Pleasanton Scottish Highland Gathering and Games on Labor Day weekend, and support our Mission. (See below)


Learn more in our Video Introduction
.

Subscribe to our YouTube Channel!


Friday, 2017-09-22

Updates, & Events

Updates:

•

Artisan Candies

has opened a mobile

Celtic Tea Shoppe

. (See Below).

• Researcher

Celia Fabos-Becker

offers a 'Lookup' service based on her personal collection

Family History Materials

. (See Below).

• Last Sunday,

Two Successful Fundraisers

were held and

over $12,000

were raised for

Hurricane Relief

. (See Below).

Events:

• THIS Friday and Sunday,

Johnny B. Connolly and Eamon McElholm

of Solas give 2 House Concerts. Friday 6:30 PM in

Gilroy

and Sunday 7:30 PM in

Berkeley

. (See Below)

• NEXT Tuesday, Sep. 26th, at 7:30 PM the

Old Blind Dogs

, kick off an 8 city

Tour of Northern California

, at Kuumbwa Jazz Center in Santa Cruz. (See Below)

• NEXT Thursday, Sep. 28th, 6:30 PM its the

16th Annual Irish Mex Fiesta

, at Centro Latino de San Francisco Mission, in San Francisco. (See Below)

•

NEXT Friday Sep. 29th, at 7:30, the HOT new show Fabulous Folk, a $10 double bill, performs at the Art Boutiki in downtown San Jose. CLICK FOR A NEW VIDEO!

(See Below)

• Friday Sep. 29th - Sunday Oct. 1st, brings the

21st Annual KVMR Celtic Festival

, at the Nevada County Fairgrounds in Grass Valley. (See Below)

• The same

KVMR Celtic Festival

, serves as the kickoff for the Northern California Tour of Celtic Super-Group

Story Road

. (See Below)

• Saturday Sep. 30th, 9 AM - 5 PM, also brings

the 17th annual Dixon Scottish Highland Games & Gathering

at the

Dixon Fairgrounds

in Dixon. (See Below)

• Saturday Sep. 30th,

Culann's Hounds

bring their upbeat style, tight arrangements, and high energy show to

The Northern California Rennaissance Faire

in Casa de Fruta. (See Below)

• Saturday, Oct. 7th, 9 AM - 5 PM, brings

the 3rd Annual Big Trees Scottish Gathering & Highland Games

, at historic

Roaring Camp Railroad

in Felton. (See Below)

• On Friday, October 13, at 8 PM,

Gerry O'Connor & Richard Mandel

kick off a series of 6 with a House Concert in Berkeley, CA (See Below)

• And on Saturday, Oct. 14th, 6 PM - 10 PM, it's

a Sea Music Concert by Charmas followed by a Chantey Sing

, at

Cope-a-Cabana

in San Jose.

Scan our feature articles below, or as always, you can click here to check the next month of listings on our website.
---
Be a Celtic Hero!
Donate to AmeriCeltic,
and we will add your name here: www.AmeriCeltic.net/sponsors
---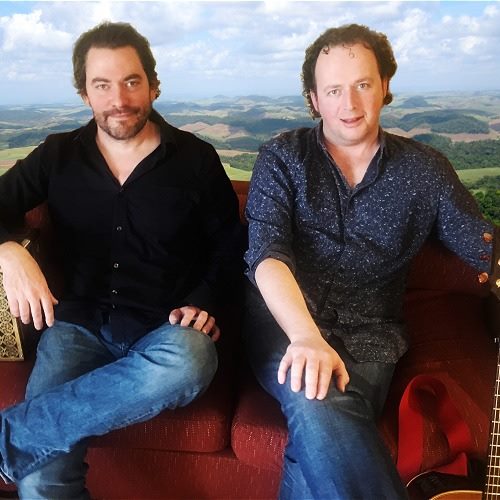 Johnny B. Connolly & Eamon McElholm
Two House Concerts
Gilroy Friday 9/22 | Berkeley Sunday 9/24
Eamon McElholm, from County Tyrone, has been heavily involved with the American/ Irish band Solas for a number of years. After 20 years as a band, Solas has decided to take a sabbatical and consequently Johnny & Eamon are touring as a duo. Prior to joining Solas, Eamon worked with Irish band 'Stockton's Wing' as singer, songwriter and guitarist. He has worked with many other Irish musicians playing a mixture of instrumental roots music alongside his own original songs. He was awarded the Performing Rights Society/John Lennon songwriting award when he was a student in Salford University. He has written music that has been recorded by many Irish groups and artists. He plays guitar, piano and cello, in addition to being an experienced vocalist. On this tour he'll be treating us to guitar and vocals.
Born in Dublin and now residing in the US, Johnny B. Connolly has played accordion as part of a number of bands and duos over the years: Solas, Anam, with Aidan Brennan, with Kevin Burke, with Nuala Kennedy ,with Tony Furtado, with Casey Neill.
• Fri Sep 22, 6:30pm, Eileen Cuevas Garden Concert, Gilroy, etcteach@yahoo.com
• Sun Sep 24, 7:30pm, Sally Greenberg House Concert, Berkeley, reservations@sgreenberg.org
---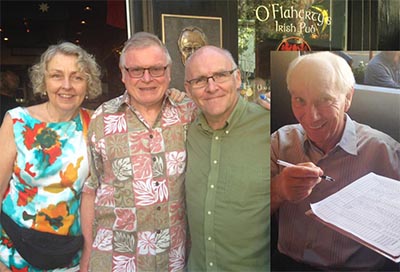 Hurricane Relief Fundraisers
SF and SJ Show Sympathy and Support
Sunday, September 17th, 2017
On Sunday, September 17th, from 3:00 PM to 5:00 PM, a hurricane relief fundraiser was hosted by O'Flaherty's Irish Pub in San Jose. In the photo, left to right, volunteers Kathy Hall, Leslie Murdock, Donagh Mc Keown and Blake Burke are pictured (thanks Pam Kelly).

Volunteer Leslie Murdock has provided this report:
"The O'Flaherty's fundraising event was a great success! We have raised over $10,000 in two hours for hurricane relief. All this will be placed in the hands of Habitat for Humanity*, the leader in housing rehabilitation. What a generous community we have!"
Later the same day, from 5:00 - 11:00 PM a second fundraiser organized by Autumn Rhodes and others was hosted by the Plough and Stars in San Francisco.

Lead Organizer Autumn Rhodes has provided this report:
"I am delighted to report that we raised $2100 last night! This means we can send $700 to all three causes, United Way of a greater Houston, Central Bend Food Bank, and Houston SPCA. Thank you all for coming out to help the people and animals affected down in Texas!"
There will be a continuing need for this kind of support for many months, so please keep up this good work and please continue to send us reports of your efforts, and of your successes!
* After Hurricane Katrina, New Orleans Habitat for Humanity built 81 new homes in Upper Ninth Ward of New Orleans. This Musicians' Village, was conceived by musicians Harry Connick Jr. and Branford Marsalis, to help displaced New Orleans musicians. - editor
---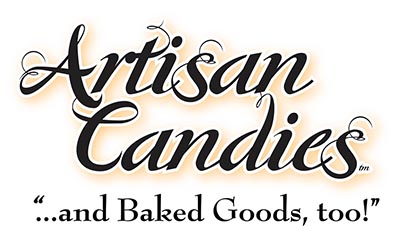 Kristen & Dean Scott Open a New Business Division
The Celtic Tea Shoppe – A New Mobile Food Truck Concept
Artisan Candies, 4432 Pearl Avenue, San Jose CA 95136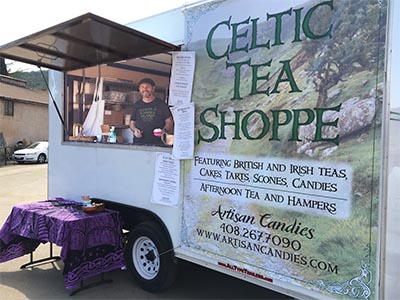 After ten years of participating in great festivals with the Artisan Candies trailer, Kristen and Dean Scott are adding to their business by 'taking it on the road'. The new Mobile business, The Celtic Tea Shoppe, will serve properly brewed British and Irish teas, savory treats such as sausage rolls and meat pies along with sweet treats like handmade tea cakes, liquor cakes, fruit mince pies and tarts. Their wonderful Artisan Candies will also be available.
The Celtic Tea Shoppe is ready to roll, available for public and private events throughout the San Francisco Bay Area.
You can still find Kristen and Dean with their booth, Celtic Candies and Cakes, at many of the Scottish and Celtic festivals around California such as the Pleasanton Highland Games on Labor Day weekend, the Big Trees Highland Games coming up on October 7, 2017, and at the Great Dickens Christmas Fair this winter as London's Finest Cakes and Puddings.
For booking inquiries, please contact Kristen Scott with a call to 408-239-9533, or an email to sales@artisancandies.com
And follow our adventures on our Facebook Page at www.facebook.com/CelticTeaShoppe
---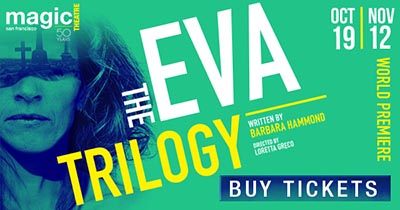 By Barbara Hammond | Directed by Loretta Greco
October 19 - November 12, 2017
Fort Mason Center, 2 Marina Boulevard, Building D, San Francisco
TICKETS: http://magictheatre.org/season/the-eva-trilogy Save 20% on Tickets* Use Code: AC20
Barbara Hammond's The Eva Trilogy is a lyrical Irish epic spanning thirty years over the course of three plays: Eden, Enter The Roar and No Coast Road. All three plays will be performed, in succession, during each performance. Each play stands alone as a complete work, but together they comprise a trilogy that tells one comprehensive story.
Julia McNeal (Fred's Diner, A Lie of the Mind) stars as 'Eva.' The Company features Caleb Cabrera as 'Tom,' Justin Gillman as 'Father O'Leary,' Rod Gnapp as 'Eamon,' Amy Nowak as 'Roisin,' Lisa Anne Porter as 'Teresa,' and Megan Trout as 'Nymph.'
In addition to Ms. Hammond and Ms. Greco, the creative team includes Hana S. Kim (Scenic and Projection Design), Alex Jaeger (Costume Design), Stephen Strawbridge (Lighting Design), and David Van Tieghem (Sound Design and Composition).
Tickets may be purchased online at http://magictheatre.org/season/the-eva-trilogy or by calling (415) 441-8822.
Magic Theatre
Fort Mason
2 Marina Blvd.
Building D, 3rd Floor
San Francisco, CA 94123
*Code AC20 is valid for 20% off tickets to all performances of THE EVA TRILOGY thru November 12, 2017. Available on all seats. All seats are best available. Not valid on previous purchases and cannot be combined with any other offer. All tickets are subject to availability. Subject to change. Service charges apply to all orders.
---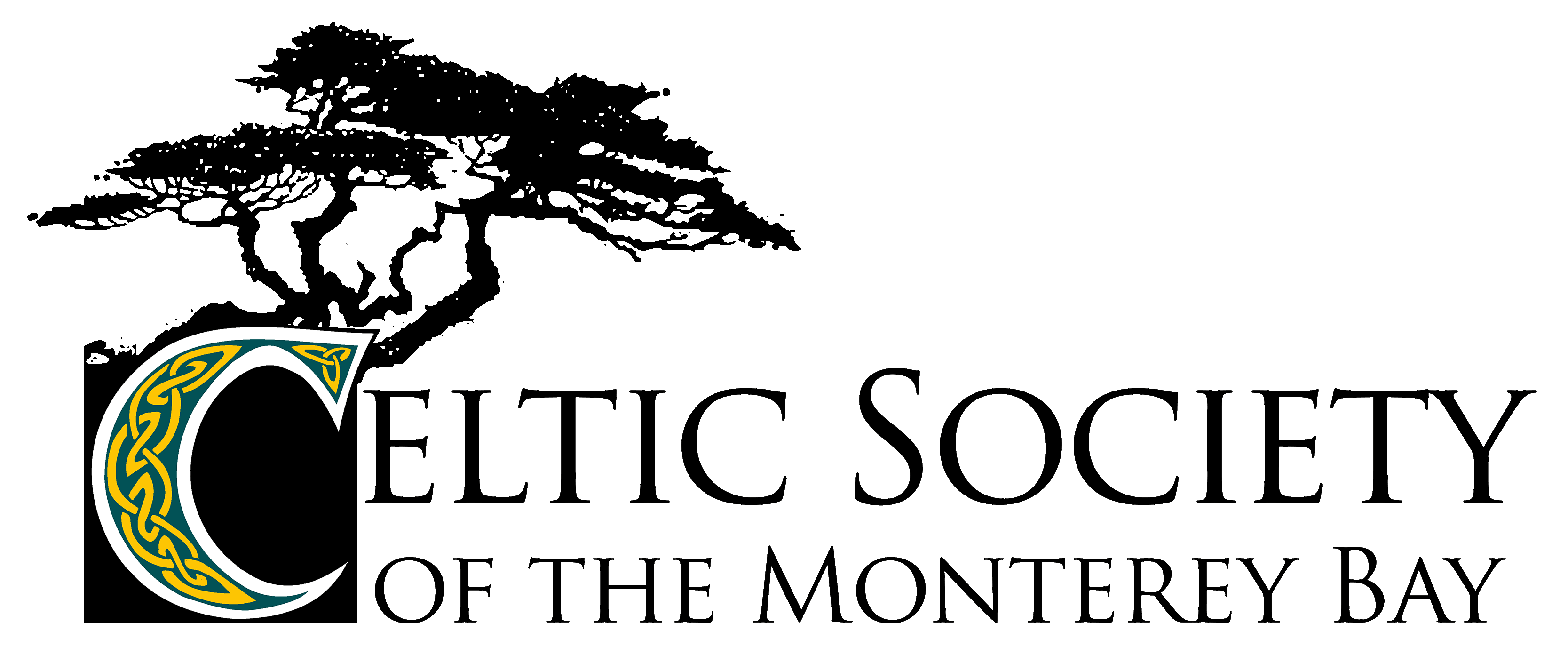 Celtic Society of Monterey Bay
The venerable Celtic Society of Monterey Bay has a 24 year record of bringing world class Celtic musicians to the Monterey Bay Area and is a key sponsor of AmeriCeltic.
• Tuesday, Sep. 26th 2017, 7:30PM, Kuumbwa Jazz Center, Santa Cruz
• Wednesday, Sep. 27th 2017, 7:00PM, St Mary's, Pacific Grove
• Wednesday, October 4th 2017, 7:30PM, Flynn's Cabaret (formerly Don Quixote's), Felton
• Saturday, October 7th 2017, 7:30PM, Kuumbwa Jazz Center, Santa Cruz
• Sunday, October 8th 2017, 3:00PM, St Mary's, Pacific Grove
Click here for full details of All Celtic Society of Monterey Bay Concerts on the CSoMB website! (Click on small arrow in the inset photo for the videos. Click on the 'more info' link for full details and ticket links.)
---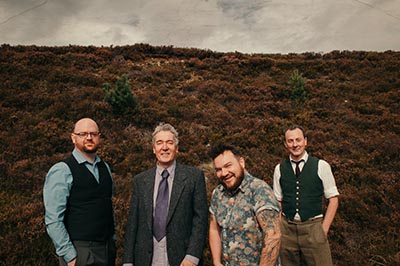 Old Blind Dogs
2017 Fall Tour of Northern CA
Santa Cruz | Pacific Grove | Chico | Fort Bragg | Berkeley | Sebastopol | Sebastopol | Point Arena
Since forming in the early 1990's, Old Blind Dogs (OBD), have stood on the cutting edge of Scotland's roots revival. The band has developed its own trademark style with an energetic mix of songs and tunes.
One of the most highly touted Celtic groups of our time, OBD is the only multiple winner of the prestigious Scots Trad Music 'Folk Band of the Year' Award . With 12 CDs already in the bag, you'll have a chance to collar their 13th, and brand new offering titled Room With A View.
For Videos of Old Blind Dogs, Click Here!
OBD continues to distinguish themselves as vital, innovative ambassadors of Scots music by subtly and ingeniously expanding upon the very tradition they celebrate in harnessing the rich resonance and timeless themes of the songs and tunes of their homeland and weld them to new rhythmic frameworks, dynamic arcs and textural expanses, This produces a uniquely identifiable sound that reflects the rich heritage of their forefathers, yet comes across as resoundingly fresh and immediate. OBD's Dynamic percussion, virile vocals, soaring fiddle and stirring pipes fuel the delicately-phrased melodies and traditional songs generate rave reviews, like this one:
'Old Blind Dogs play with a compelling energy and intoxicating rhythm as players and audience seem to share a wild ecstasy of emotion. Come out and see what the excitement is all about!' - The Scotsman
Northern California Tour
• Tue, Sep 26, 7:30pm Kuumbwa Jazz Center, Santa Cruz, sponsored by the Celtic Society Of Monterey Bay
• Wed, Sep 27, 7:00pm St. Mary's By The Sea, Pacific Grove
• Thu, Sep 28, 7:30pm Chico Women's Club, Chico, Presented By KZFR
• Fri, Sep 29, 7:30pm KZFR benefit, Fort Bragg, sponsored by Oak & Thorn
• Sat, Sep 30, TBD The Back Room, Berkeley
• Sun, Oct 01, 7:30pm Community Center, Sebastopol
• Mon, Oct 02, TBD School Workshops By Cloud, Sebastopol
• Tue, Oct 03, TBD 215 Main Street Wine Bar, Point Arena
Get full details and tickets at www.oldblinddogs.co.uk
---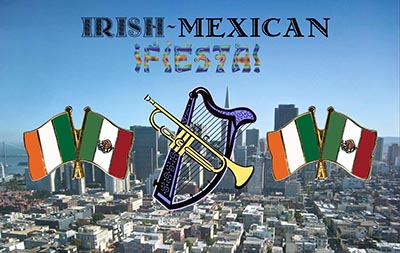 16th Annual Irish Mex Fiesta
6:30 PM, Thursday, Sep. 28th, 2017
United Irish Cultural Center, 2700 45th Ave, San Francisco
The San Francisco Irish Mexican Association and Centro Latino de San Francisco are proud to present the 16th annual Irish Mex Fiesta on Thursday, Sep. 28th, 2017.
The annual commemoration honors San Francisco first responders from the Police, Fire, Sheriff and District Attorney Investigations Bureau departments who embody the ideals of the legendary Saint Patrick's Battalion, Irish immigrants conscripted into the U.S army who fought for Mexico in 1846-48.
S.F. Irish Mexican Association Presidents Emeriti Patrick and Ute Goggins will be honored for their lifetime of service to the Association.
The United Irish Cultural Center, 2700 45th Ave, San Francisco will host the festivities, with appetizers and no-host cocktails served from 6:30 pm, followed by the presentation of awards and a not-to-be-missed performance by the resident Coro CMC Senior Choir. A seated dinner, accompanied by entertainment by DJ Mr. Fresh, will end the evening.
Your $75 ticket includes appetizers, dinner, wine, party favors, and valet parking. All proceeds benefit Centro Latino de San Francisco, serving seniors in the Mission District since 1972. For reservations and more information please call 415-862-8790.
Full Details: https://www.facebook.com/events/495186997489416
---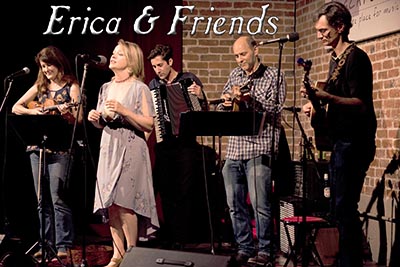 Fabulous Folk!
Erica & Friends / Lee Corbie-Wells
Two
LIVE SOUTH BAY Appearances!


Friday, Sep. 29th:
4:00 PM LIVE STREAMING @ KKUP.ORG or 91.5 FM
7:30 PM LIVE IN CONCERT, @ Art Boutiki, 44 Race St, San Jose

Art Boutiki and AmeriCeltic.net bring you 'Fabulous Folk', featuring two GREAT Acts for only $10!

Get Fabulous Folk Tickets NOW!
CLICK FOR A NEW VIDEO!

Erica and Friends is the Bay Area's HOTTEST new folk and traditional band. Born of the rich Berkeley Arts culture, they've served up an upbeat mix of jigs and reels and pub songs, along with jazz, standards, and sweet ballads all over the East Bay and San Francisco. With Erica Hockett's vocals, Anne Bingham-Goess' fiddle, Lucas Gonze' mandolin, Troy Dillinger's accordion, and Chris Hammond's guitar, they are destined to become one of our great regional folk music resources. For the first time, hear them in the South Bay, at Art Boutiki!

For more on Erica & Friends, check their websites: YouTube Videos | Facebook Page | Soundcloud | or Reverbnation
San Francisco native Lee Corbie-Wells has startled the Bay Area folk scene with her striking vocal and multi-instrument talents, venturing into Celtic, Americana, Blues, Jazz, Swing, Ragtime, Latin, Scandinavian and Bluegrass genres. Lee will enthrall you with a spread of savory songs including Gaelic, Russian, and Welsh, along with original tunes, accompanied with violin, hardanger fiddle and guitar.

Lee has Scottish ancestors and took up fiddle at 6. Her great-grandmother was from Skye, great-grandfather was from Glasgow, and grandmother was from Howwood, Renfrewshire. Her parents were both music teachers, and taught her Celtic and American tunes by ear, fostering her love of traditional folk music.

Lee toured Southern Ireland with Alison Streich in the band, Drowsy Maggie and has since performed in numerous Celtic, Americana, Blues, Jazz, Swing, Ragtime, and Latin bands, including a few years with Los Gatos based The Gallowglasses. In 2014, Lee formed her own band, Moonshine Jelly, and earlier this year, a Scandinavian-Bluegrass-Contra band called Kaptain Bottletop. Last Labor Day weekend, Lee performed two solo shows on the AmeriCeltic Stage at the Pleasanton Highland Games.

For more on Lee Corbie-Wells, check her websites: YouTube Videos | Facebook Page | www.moonshinejelly.org
2 Appearances on Friday, Sep. 29th
• 4:00 PM LIVE STREAMING! Erica & Friends and Lee Corbie-Wells will be the LIVE guests on the 'Friday Folk-Off' show, streaming on www.KKUP.ORG and broadcasting on FM 91.5
• 7:30 PM LIVE IN CONCERT Erica & Friends and Lee Corbie-Wells perform at Art Boutiki, 44 Race St, San Jose. Advance Tickets $10 available soon at Eventbrite, $12 at the door.
For more Fabulous Folk Details and Tickets, Click Here!.
For more on Art Boutiki Art Gallery, check www.artboutiki.com, call 408-971-8929 or email Dan Vado kahuna@artboutiki.com.
---
Fair Use and Reasearch
Materials from Which I Can Look-ups for Family History Researchers
By Cecilia Fabos-Becker
Under the 'Fair Use' doctrine, it is not acceptable to copy and upload large parts of books or multi-volume series, for free public use when copywrited materials are still in print and available for purchase. However, many researchers, myself included, have copies of items from which they can do "look-ups" and send the result of look-ups to a person who makes a query by email.
I have many useful materials from which I can do look ups, such as: the 9 volume series of Kentucky Biographies, extracted from county histories and biographical series in the late 1880's by Thomas V. Westerfield and edited and published in 1975, and four of the five volumes of indexes with a line to a paragraph about each item, of the Lyman Draper, late colonial, early U.S. historical records and biographies collection at the University of Wisconsin, Madison, and books of Tennessee history, pedigrees and biographical materials. I also have the four volumes of a modern reprint of Rev. George Hill's 1840's work called Conquest of Ireland which has all the names in the original plantation grants in Ulster, and the 1628/9 census taken of Ulster--useful for helping trace Scots who settled in Ireland back through Ireland to Scotland.
I also have multiple files, some over an inch thick, of notes made from various materials, some rare and hard to find, on several families who were in the following states: Pennsylvania, Maryland, Delaware, Virginia, North Carolina, Tennessee, Kentucky and Missouri. The families for which I have the most data are: Wallace, Woods (and some on Wood families), Fortner, Dunlap, Dark, Campbell, Kirk, Ross, Hays, Lemars/Lamars, some materials on Landrums, some materials on McCormicks, and some materials on Walkers.
Very soon, we will upload a list of most of these items from which I can do look-ups for people--preferably friends, newsletter subscribers and above all donors to and sponsors of www.AmeriCeltic.net. As finances permit and I find additional interesting, rare and useful print materials, I will acquire them. I try to focus on the pre-1850 U.S. and Irish records and biographical materials.
---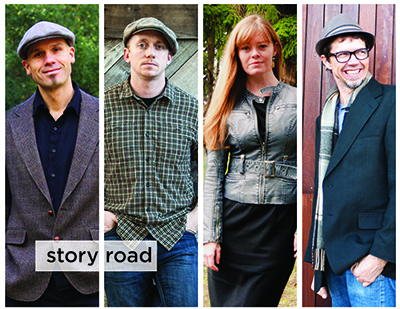 Story Road Super-Group Tour
Five Northern California Concerts
Nevada City | Cottonwood | Felton | Los Osos | Bradley
Story Road is a collaboration between 4 of America's premier Irish traditional musicians, John Weed, Stuart Mason, Colleen Raney, and Ryan Davidson. Known for their dynamic live shows, the band's repertoire of tunes and songs is culled from the rich traditions of Ireland, Scotland, and the American South.
Among the finest interpreters of traditional songs of her generation, Portland, Maine's Colleen Raney has just returned from a tour with Irish-American supergroup, Solas, and will be doing a swing down through California. Colleen grew up inspired by the Irish and Scottish songs and tunes in the rich Irish community of Seattle. Her four solo CDs have staked her claim as a serious presence in Celtic music today.
For Story Road videos, Click Here!
John Weed (fiddle) and Stuart Mason (guitar, mandola, banjo, vocals) are members of Molly's Revenge, a dynamic, acoustic Celtic band known for its unique and infectious enthusiasm. Molly's Revenge has performed at many of the top folk festivals and performing arts events in the USA, and prestigious events in Australia, Scotland, and China. They have released 11 albums and appeared on stage with John Doyle, Liz Carroll, Aaron Jones, and other top Celtic artists. "There is an engaging freshness and yet an impressive maturity in their playing," said National Heritage Award recipient Mick Moloney.
Ryan Davidson (bouzouki, vocals) is known for his powerful vocals and soulful style of folk storytelling. After a decade on the road playing rock-n-roll, he studied voice and jazz and then he was accepted into the Irish World Academy of Music & Dance in Limerick, Ireland where he studied the Irish Bouzouki and received an MA in Ethnomusicology.
Story Road Northern California Tour
(Click the Link for Details)
• Sep 29th - Oct 1st, 2017, KVMR Celtic Festival, Nevada City, CA
• Oct 2nd, 2017, House Concert, Cottonwood, CA
• Oct 4th 2017, Carl Cherry Center, Carmel, CA
• Oct 5th, 2017, Don Quixote's International Music Hall, Felton, CA
• Oct 6th, 2017, Grand Annex, San Pedro, CA
• Oct 7th, 2017, Red Barn Community Music Series, Los Osos, CA
• Oct 8th, 2017, St. Luke's Church, Bradley, CA
For More Story Road Info, Click Here!
For more on Story Road, check http://storyroadband.com
---

21st Annual KVMR Celtic Festival
Friday, Sep. 29th - Sunday, Oct. 1st
Nevada County Fairgrounds, 11410 McCourtney Rd, Grass Valley
Every fall, the Nevada County Fairgrounds, are transformed into a Celtic Village and concert venue, with eight stages and performance areas. Join publically supported KVMR radio for another spectacular mix of Celtic music and magic in their bucolic setting amidst 100 acres of giant ponderosa pines.
For a Video Review of last years KVMR Celtic Festival, Click Here!
Click here to purchase a la Carte advance tickets on line.
Entertainment and Activities

The eight Music Stages host many of the world's best Celtic musicians, this year including:
• Skerryvore, Seven-piece band from Tiree, Scotland
• Cassie & Maggie MacDonald, Sister duo from Nova Scotia
• Story Road, Celtic super-group from both US coasts
• John Whelan & Low Lily, Crossing the Atlantic
• Screaming Orphans, Sister quartet from Co. Donegal, Ireland
• Eamon McElholm & Johnny B. Connolly, from Co. Tyrone & Dublin
• Calan from Wales
• The Fire, from Santa Cruz
• Lisa Lynne and Aryeh Frankfurter, from San Francisco and Oregon
• Fódhla from Limerick, Boston, Portland and more.

• Three genres of Celtic Dance
• The Salem Street Sessions (Bring your voice or instrument and join in).
• Dozens of Living History, demonstrations.
• Dining and shopping opportunities abound with over 50 vendors and a complete Irish Pub. Hundreds of regional performers, singers, bagpipers, actors, jugglers and storytellers roam the fairgrounds.
Family Activities:
• A Free Friday Youth Arts program on Friday from 4-7 pm, giving local students ages 10-18 the chance to participate in workshops with headline performers.
• Animals of the Celtic Lands including falcons, eagles, hawks, owls, sheep and ponies.
And more activities to numerous to list!
Friday, Sep. 29th activities include:
• The Royal Tournament & Gathering of the Clans, with a medieval tournament featuring full contact jousting, dancing horses, sword fights and hand to hand combat. Honors to the winners will be presented by the King, Queen and their royal attendants.
• The Ceili! featuring MAC, 8:00 to 11:00 pm Ponderosa Hall! Our Friday Night Ceili (kay-lee) features live music by MAC, Ryan McKasson on fiddle, Elias Alexander on pipes, Colin Cotter on guitar and harmonium, for dancing in Ponderosa Hall. For MAC videos, Click Here.
More information check The KVMR Celtic Festival website or email celtfest@kvmr.org
Proceeds support publicly supported KVMR radio. Can't make it? Click here to make a donation.
---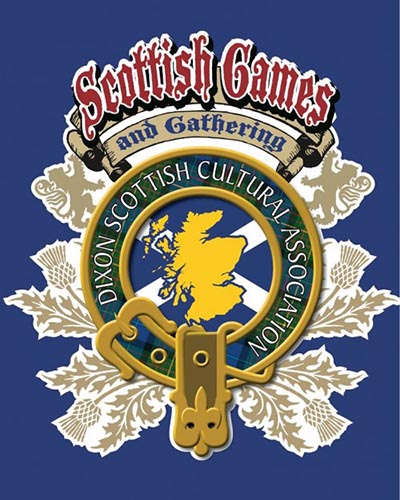 17th annual Dixon Scottish Highland Games & Gathering
Dixon Fairgrounds, 655 South First Street, Dixon, California
9 a.m. to 5 pm, Saturday, Sep. 30, 2017
Dixon's Scottish festival provides lots of Scottish fun: Scottish athletic competitions, Scottish Highland and Irish Step-Dancing performances, find your Scottish ancestry at the many clan information tents, children's games, whisky tasting program, living history displays, Scottish animal exhibits, after-games Ceilidh music party and barbecue and a wee bit more!
Musical entertainment:
Dixon Scottish club's home band, the Dunvegan Pipe Band, http://dunveganpipeband.weebly.com. This year's games will feature local events for piping trios and band quartets, and the Celtic, Scottish and Irish rock and folk music of:
• Tempest
• Michael Mullen's Trio of One
• Arbroath
• Flask
Dixon Scottish Highland Games general admission is $10; youth and seniors are $8; and children, under age 9, and active-duty military may enter free. Fairgrounds parking is $5.
Food and treasures:
Taste a variey of Scottish food, beers and whiskies. Shop for unique gifts, handmade crafts, jewelry and clothing items from Scotland, Ireland, Wales and England.
Day's highlights:
9 am: Admission gates open.
10 am: Opening ceremonies (March of the Clans).
1 pm: Marriage-vows renewal ceremony -- Scottish-style!
2 pm: Scotch whisky tasting lecture ($25 tasting fee).
4:30 pm: Closing ceremonies (massed pipe bands concert and awards presentation).
6 pm: After-games Ceilidh music party and barbecue ($15 for meal) in the fairgrounds' Denverton Hall.
For details, visit www.scotsindixon.org/scottish_games.html
---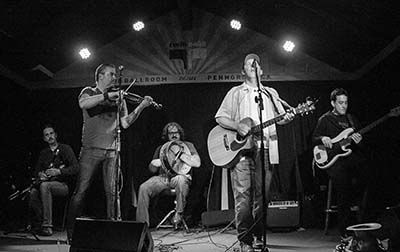 Culann's Hounds @ Fall 2017 Tour
2 shows: Casa de Fruta Renaissance Faire, Fairfax Fleadh
San Francisco's Culann's Hounds have been performing their upbeat style of fiddle tunes and rebel songs for 2 decades. Tight arrangements, excellent stage shows and great band chemistry are the hallmarks of this band as they have toured the world and recorded 5 albums.
For 4 videos of Culann's Hounds in Live performance, Click here
The Hounds deliver a unique fusion of 'core values' Irish trad and high energy, verging on punk - rock, performed with passion and feeling. Seen live, the Hounds are truly something to behold: they deliver a raucous, rollicking performance that exudes raw energy and fun. Simply put, the Hounds know how to put the live in a live show and are among the best traditional Irish groups anywhere.
Summer-Fall 2017 Tour Shows
• Sat. Sep 30, 6:00 PM, @ Northern California Rennaissance Faire, Casa de Fruta
• Sun. Oct 22, 9:30 PM, @ Fairfax Fleadh, Peri's Bar, 29 Broadway, Fairfax
---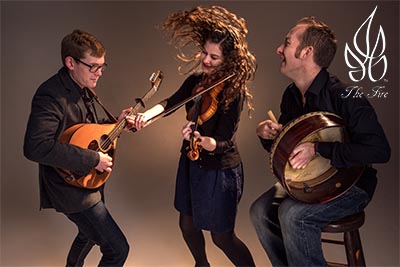 The Fire Scottish Band
New Album Ignite!
Pacifica | Fresno | Grass Valley | Felton
The Fire is a high energy pure-drop Traditional Scottish music trio, featuring Rebecca Lomnicky on fiddle, David Brewer on whistle, bagpipes and bodhran, and Adam Hendey on guitar and bouzouki.
We are thrilled to announce the release of Ignite! Until the official release Oct. 1st, pre-release copies of this EP will only be available at the live shows listed below.
For The Fire videos, Click Here!.
All three members of the trio have each spent copious amounts of time delving into the traditions of their respective instruments, with Rebecca and David having additionally lived and studied in both Edinburgh and the highlands of Scotland. Together, The Fire performs captivating Scottish music which bridges the gap between the fiddle and bagpipe music of Scotland—two worlds united, into a heartfelt and rousing musical experience. With their entertaining and informative stage banter, vast array of instrument combinations and extensive repertoire, including everything from soaring slow airs to intricately arranged dance tunes, these charismatic performers will leave you on your feet with your hands together.
The Fire Northern California Tour
• Grass Valley, CA - Sep. 30 to Oct. 1 - KVMR Celtic Festival
• Felton, CA - Oct. 7 - Big Trees Scottish Gathering and Highland Games
More details on The Fire at firescottishband.com.
---

Big Trees Scottish Gathering & Highland Games
Roaring Camp Railroad
Saturday, Oct. 7th, 10 AM - 6 PM
Big Trees Scottish Gathering & Highland Games, at historic Roaring Camp Railroad, 5401 Graham Hill Rd, Felton, features Scottish Heavy Athletics, Gathering of the Clans, Pipe and Drum Bands, Highland Dance, Celtic Food and Ale, Scottish Country Dance, Living History, Celtic Marketplace and live music from Tempest, The Fire, The Gallowglasses, Peter Daldry, the Peninsula Fiddlers, and the Community Music School and much more.
Tickets Available online
Adults (18-64): $17 ($20 @ the gate)
Veterans & Seniors (65+): $15 ($18 @ the gate)
Juniors (13-17): $15 ($18 @ the gate)
Children 12 & under: FREE
Entertainers
(Click for Details)
• Tempest
• The Fire
• The Gallowglasses
• Peter Daldry
• The Peninsula Scottish Fiddlers
• Community Music School of Santa Cruz
Full Details at http://bigtreescots.com or Big Trees Facebook Page, or email ahighlandrogue@hotmail.com.
---
CD Release: The Irish Channel
From Eamonn Flynn | Saturday, October 7th @ 8:00 PM
Empress Theater, 330 Virginia St, Vallejo, CA 94590
Dublin born keyboardist Eamonn Flynn, has just released his album, The Irish Channel, featuring his solo piano and vocals, and backing from two great Bay Area vocal treasures Omega Rae and Kimiko Joy. To celebrate, San Franciscan Eamonn is throwing a big party / concert at the Empress Theater in Vallejo.
The Concert will include album songs about St. Brigid, the Irish Channel neighborhood of New Orleans which was populated by the Irish in the early 19th century, May Oblong a famous Dublin prostitute /madam from the early 20th century, Irish lad Barney, who emigrates from Ireland to California in the 19th century in the hopes of digging gold instead of potatoes, and a version of Thugamar Fein an Samhradh Linn an ancient Irish song sung on Beltaine or MayDay.
For Eamonn Flynn sample videos, Click Here!
For Eamonn Flynn CD Release $20 Advance Tickets Online, Click Here!
The Empress show will feature An All Star Band:
• Eamonn Flynn on vocals, piano and B3 (The Commitments, Micheal Franti, Zigaboo Modeliste, Black Brothers, Finbar Furey...)
• Jeff Tamelier on guitar (Tower of Power, Cold Blood)
• Kevin Hayes on drums (Robert Cray, BB King, Van Morrison)
• Don Bassey on bass (Danny Click, Volker Strifler, Liz Kennedy, Kevin Russell)
• Ashling Biscuit-Cole on backing vocals (Graham Central Station, Sheila E)
• Zoe Ellis on backing vocals (SoVoSo, Donald Byrd, Phil Lesh, Agape Soul)
This Sunday, September 17th, Eamonn will also appear in downtown San Jose at the Lil Easy Backyard Party at Noon (just behind O'Flaherty's Pub). For reservations call Poor House Bistro at 408-292-5837 or E-Mail: manager@poorhousebistro.com.
Now living in San Francisco, Eamonn is known in Celtic circles for his driving piano style adding excitement to the Black Brothers Band jigs and reels, but he also was the keyboardist on the 12 million selling movie soundtrack The Commitments. Eamonn has gone on to record and tour worldwide with such luminaries as Michael Franti and Spearhead, Evelyn 'Champagne' King, Elvin Bishop, Pee Wee Ellis, Donald Harrison, Bernard Purdie, Grant Green Jr., Coco Montoya, Michelle Shocked, Maria Muldaur, Tony Lindsay (Santana), and a 10 year stint with legendary New Orleans drummer Zigaboo Modeliste.
The album shows a good deal of Gospel influence from Eamonn's years playing in such churches around the Bay Area, particularly with the song At Last Our Time Is Here, as well as New Orleans flavor from years with Zigaboo Modeliste and other greats from the Big Easy.
The Irish Channel is a bit of a return to Eamonn's Irish roots both musically and lyrically. The title song, The Irish Channel, is another one about emigration to America (a timely subject) and is dedicated to the neighbourhood in New Orleans populated by Irish emigrants in the early to mid 19th century. St. Brigid's Day speaks of going up to the Dublin mountains to enjoy the first day of Spring, The song May Oblong tells the story of the restless ghost of a famous prostitute/madam from 1920's in Dublin.
Eamonn does a very different, slow version of the song known as 'Mursheen Durkin' (aka Goodbye Mrs. Durkin as made popular by Will Millar of the Irish Rovers) about an Irish fella who decides to emigrate to California during the Gold Rush because he's sick and tired of digging potatoes and would rather be digging lumps of gold.
The album is available on iTunes and Amazon and elsewhere online:
iTunes: http://itunes.apple.com/album/id1232357592?ls=1&app=itunes
Amazon: https://www.amazon.com/Irish-Channel-Eamonn-Flynn/dp/B072HN1R9Z/
Contact Eamonn at Eamonn's Email or check Eamonn's website or Eamonns Facebook Page
For more Event details, check The Facebook Event or call the Empress at (707) 552-2400.
---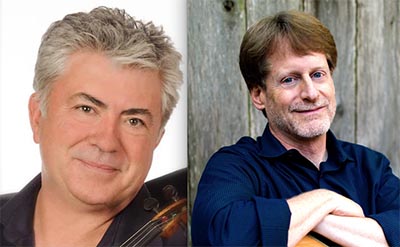 Gerry O'Connor & Richard Mandel
Northern California Tour
For a video of Gerry O'Connor & Richard Mandel, Click Here!
Hailing from a family of musicians in Dundalk, County Louth, Gerry O'Connor has won numerous All-Ireland titles. He has played and recorded with highly-regarded groups such as Lá Lúgh and Skylark, as well as having toured and recorded with members of all the legendary groups including Planxty, Bothy Band, De Dannan, Boys of the Lough, The Irish Rovers and the Chieftains. His solo album, Journeyman, was counted in the top five Albums of the year 2004 by The Irish Times and was heralded as a significant milestone in recording the music of the 'Oriel' region of South Ulster. His 2006 live album, In Concert, recorded with Gilles Le Bigot was a celebration of the cultural links between Ireland and Brittany. Jig Away the Donkey, an album focusing on the music and song of South Ulster with Martin Quinn and Gabriel McArdle was released in 2010. With Nuala Kennedy, Martin Quinn and Gilles Le Bigot, Gerry released the album Oirialla in 2012 at the Celtic Colours Festival in Cape Breton, Canada. This band is currently touring and entertaining audiences around the globe.
Richard Mandel fell into the well of Irish music in the mid-'90s and was soon driving every session he could get into. As a first-call accompanist, Richard has performed with legendary Irish musicians including Paddy Keenan, Jimmy Keane, Gerry O'Connor, Mick Maloney, Paddy O'Brien, Tony DeMarco and many others. Richard plays in the trio Three Mile Stone with mandolinist Marla Fibish and fiddler Erin Shrader. Three Mile Stone released its debut CD, produced by John Doyle, in March 2010 and has received rave reviews. In addition to Three Mile Stone, Richard can be heard on Christa Burch's CD 'Love of the Land', Radim Zenkl's, 'Restless Joy', and Tipsy House's CD, 'Sets in the City.'
Gerry O'Connor & Richard Mandel Tour Dates
• Friday, October 13, Berkeley, CA, House Concert, 8 PM, Reservations: rmand50@yahoo.com
• Sunday, October 15, Chico, CA, House Concert, 7:30 PM, Reservations: michaelwcannon@sbcglobal.net
• Thursday, October 19, Sebastopol, CA, House Concert, 7:30 PM, Reservations: rogerjsherron@comcast.net
• Friday, October 20, The Plough and Stars, San Francisco, CA 9:15 pm. http://www.theploughandstars.com
• Saturday, October 21, Soquel, CA, House Concert, Monterey Bay Celtic Society, 7:30 PM, Reservations: reservations@haworths.org or (831) 464-9778
• Sunday, October 22, Palo Alto, CA, House Concert, 3 PM, Reservations: eratner@pacbell.net

More Info and full bios: https://www.gerryoconnor.net/biog
http://threemilestonemusic.com/about/richard-mandel
---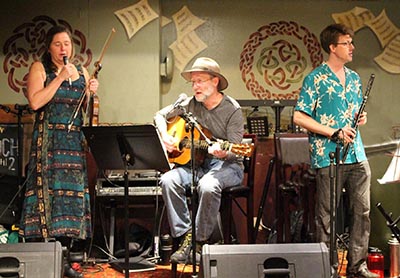 Charmas @ Cope-A-Cabana
Potluck | Sea Music Concert | Chantey Sing
Cope-A-Cabana House Concerts, Saturday October 14th 7:30pm
Saturday, Oct. 14th, 6 PM - 10 PM, it's a Sea Music Concert by Charmas followed by a Chantey Sing.
Advance Tickets $15 until Oct. 7th. Full show details and Advance Ticket Purchase information at https://charmasband.com/sea-music-at-the-cope-a-cabana/ and $20-25 sliding scale after Oct. 7th.
Start with the Meet and Greet potluck from 6:00 - 7:00 pm, then the Sea Music Concert by Charmas from 7:00 - 8:15 pm and finish your evening with a rousing Open Chantey Sing from 8:30 - 10:00 pm.
For the Concert, Charmas will perform selections from their 2017 album 'Songs of the Sea.' Featuring Aaron Clegg on lead vocals and flute, Elise MacGregor on Great Highland Bagpipes and fiddle, and Phil Johnston on lead vocals and guitar.
During the Chantey Sing, everyone can take a turn leading a song , and lyric sheets will be provided for those who don't already have a favorite sea chantey.
Cope-a-Cabana is a house concert series in San Jose, CA. For info and reservations, contact: RSVP@Cope-a-cabana.com or check the facebook page: https://www.facebook.com/groups/387592954920563.
Charmas 19-track album, Songs of the Sea!, is available on CD Baby Full Details on Charmas at https://charmasband.com, or email Elise MacGregor Ferrell at eliseelise@aol.com.
---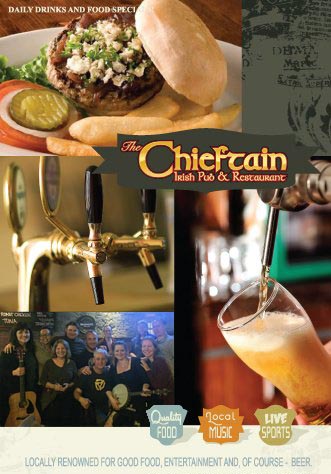 The Chieftain Irish Pub & Restaurant
198 5th St, San Francisco
The Chieftain Irish Pub & Restaurant, is a bustling SoMa spot with Irish pub grub & beers on tap plus sports on the satellite TV.
This local Irish Pub brings the culture of Ireland to San Francisco, offering a full bar, Happy Hour specials, and a full Irish restaurant menu, including favorites like fish and chips which goes with any style of sport, music or fun.
"I am in the city every 2-3 months and The Chieftain is an absolutely integral part of every trip. Mark runs an amazing, authentic Irish pub. Major plus, the only place I know of in northern California to get Kilkenny!!"

"Walked in, Saturday night about 7pm and there was a table right inside the door. We had a shepherds pie and an Irish stew. The shepherds pie was actually made with lamb! The live music was great entertainment too!"
For a video of some the Chieftain's food menu, Click Here.
The Chieftain hosts live music on Fridays and Saturdays. Click Here for the current schedule! The live Irish traditional music and song session every Sunday evening is always great Craic! Here is a sample Irish Session from 2009: Live Irish Session at the Chieftain.
For the latest happenings, check the Chieftain facebook Page, or call 415-625-0436, or email Mark Nagle at mark@thechieftain.com or check www.thechieftain.com.
---
Be a Celtic Hero!
Donate to AmeriCeltic,
and we will add your name here: www.AmeriCeltic.net/sponsors
---
Wanna help, comment or get published?
We publish articles or comments that relate to our Mission (see below), to our thousands of Celtic concordant readers. If you have one, email us: Tony and Celia Becker, americeltic@gmail.com

Click here to switch to the live AmeriCeltic Calendar, covering the Bay Area.
Click here to switch to the live Celtic Events Calendar, from Chuck Jamison, covering the Central Valley. To submit an event for listing in our Calendar, email your event info., including Who, What, Where, Why & Description to us at, americeltic@gmail.com, or Click Here to use the online form.
We love videos! Include a link to an online video, and you will likely get featured in this weekly newsletter!
---
---
AmeriCeltic Mission
AmeriCeltic is an all volunteer, non-profit organization. Our Mission is to restore awareness, celebrate and preserve the culture and history of Americans of Celtic descent in Northern CA by promoting Celtic events & history. Our volunteers cover all the Celtic related events in Northern California, with an accurate and up-to-date description of each. To help fund our efforts, click the 'Donate' button above or on our AmeriCeltic Website www.americeltic.net.