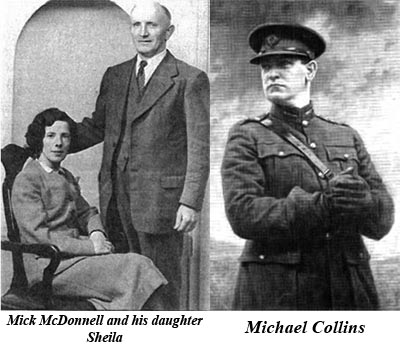 Irish Revolutionary Mick McDonnell
Many of you have watched the film, California and the Easter Rising (above). As mentioned in the film, the Irish Revolution was partly funded and nearly unanimously supported by the local Irish community here in the Bay Area of Northern Californnia, and particularly in the South Bay's Santa Clara County.
One of the young rebels who served in Dublin during in the 1916 Easter Rising one hundred years ago was Mick McDonnell. Thereafter, Mick was imprisoned at Frongach in North Wales along with Michael Collins, where he served as camp cook, and became a trusted lieutenant of Michael Collins. During the War of Independence, McDonnell was the young leader of 'the Squad', directly under Michael Collins, throughout the crucial 1919 - 1921 period of the Irish Revolution, then was sent to California on a special mission. After Collins assasination in 1922, Mick lived out the rest his life here in San Jose, working for the McEnery family until his death in 1950. Mick's funeral was celebrated at St. Mary's in Los Gatos and he is buried in Mission Santa Clara Cemetery.
To read a complete biography of this Irish patriot, Mick McDonnell, by noted Irish historian Shay Courtney, Click Here.
Mick McDonnell was not mentioned during the California 1916 Easter Rising commemoration events or the film above, because we didn't know about his role in 1916 at that time, but when we learned of it, we decided to rectify the omission, appropriately during Samhain, the traditional time to remember ancestors and honored dead.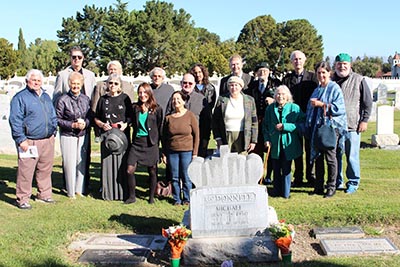 Mick McDonnell Memorial
12:00 Noon, Thursday, November 17th, 2016
Santa Clara Mission Cemetery, 490 Lincoln Street, Santa Clara, California, at Block 9A PC, Lot 29J
In commemoration of Mick McDonnell's service to the cause of Irish Independence, a group of nineteen Bay Area Irish history buffs (pictured) gathered at the Mick McDonnell grave site at Noon, Thursday, November 17th at Santa Clara Mission Cemetery, 490 Lincoln Street, Santa Clara, California, at Block 9A PC, Lot 29J.
Former San Jose Mayor Tom McEnery spoke at length about Mick and his life as it spanned the roles of Irish revolutionary, employee and faithful family friend. Mr. Mc Enery explained that, as Michael Collin's appointed assassin, Mick McDonnell played a terrible, but crucial role in the Cause of Irish Freedom, then lived the rest of his life here in the South Bay Area, saying "Mick McDonnell was probably the most significant revolutionary who ever lived in California".
Full Length Film of Mick McDonnell Memorial