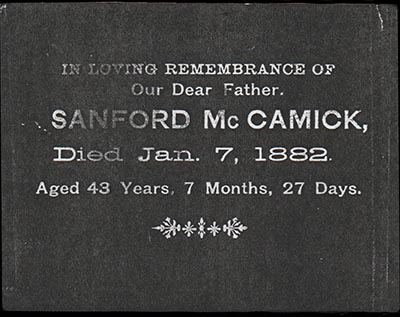 McCormicks, DNA and America's Dark Age
The Tough to Trace SS McCormick
By Tony and Celia Becker
We have very complete information about Tony's parents and grandparents, and also on all but one of his great grandparents and 2nd great grandparents. However, we been trying to connect one of Tony's 2nd great grandfathers, Samuel Sanford McCormick, (SS McCormick) to his McCormick ancestors for many years. This fellow presents a very difficult combination for researchers. SS McCormick's case had already driven one professional paid researcher in Kentucky to say she was 'totally done with McCormicks and McCammacks and never wanted to hear of them again.' It had stymied at least two other long-time well-educated researchers with excellent regional and national reputations.
After decades of research, we did have a few facts. Samuel Sanford McCormick was born May 12, 1838. In his few surviving records we found a few instances where clerk got his surname wrong, mostly as McCamick or McCammack, instead of McCormick. According to the Civil War military service records, prepared by clerks to whom he answered basic questions, as far as SS McCormick knew, he had been born and spent his childhood in Washington County, Kentucky. (not far from where Abraham Lincoln was born). He died January 7, 1882 in a place unknown and was buried near Vandalia in Fayette County, Illinois where he lived last. Some 15 years after he died, his date of death was remembered by his widow and oldest daughter who gave that information to the military. We believe the military and his children put up the pictured headstone for him in about 1898. His oldest daughter Amanda always went by McCormick, which she could have only gotten from her father. His widow remarried and the clerk wrote the name wrong as McKamie or McKamic (depending on your interpretation of the scrawl), but one thing is clear. All the early records for these women, and SS himself have 'Mc' as part of their surname. None are without it.
We know that Tony's maternal grandfather was Ellis Theodore Beebe (1891-1973), whose parents were Thomas Jackson Beebe (1863-1929) and Amanda Alice McCormick (1867-1959). We have documented Thomas Jackson Beebe's parents were Charles Lemuel Beebe, Sr. (1828-1875) and Mary Hughes (1829-1882), and documented most of their other vital records. For Amanda Alice McCormick, we know her parents were Samuel Sanford McCormick (1838-1882), and Mary Ann Ottinger (1847-1920). We have good documentation on Mary Ann Ottinger, despite the fact she was illiterate and had never been to school, but we have almost nothing on SS McCormick.
But we wanted to know who SS McCormicks predecessors were, how they originally came to America. We knew that the McCormicks present in Early America were relatively few in numbers. We also knew that most of the McCormicks passed through these parts of Early America's Dark Age, and that most were related to the illustrious Inventor, Cyrus McCormick, who had famously traced his ancestors back to Ulster, and others had more recently worked from his research all the way back to Argyllshire, Scotland in the 16th century.
Using DNA matches to Narrow the Field
We decided to apply the new science of DNA testing and matching to break through the barrier. Over the past 2 years, Tony did autosomal DNA tests at all three of the largest DNA testing companies, Ancestry.com, 23 and Me and Family Tree DNA, plus a Y-DNA test at Family Tree DNA.
On Ancestry.com, as of October 1st, 2018, Tony has 204 DNA matches to clients looking for the surname 'Hughes', 59 for the surname 'McCormick', 63 matches for 'Beebe,' 25 matches for 'Ottinger' and only 12 for the homophonic English surname Cammack and it's several variants.
In this SS McCormick instance, a similar pattern also appeared when he analyzed the matches results from the second largest database DNA testing company, Family Tree DNA as well as the third largest, 23 and Me. Both of these others use algorithms for low confidence matches which give less variable results, and a user interface that gives the client more insight options for such matches.
Although Ancestry.com has the largest database, it's algorithms for DNA matching, especially for what they call 'low confidence' matches more distant than 5th cousins, are in a constant state of change, and often unreliable, to the extent that they no longer show the full detail for such matches, and so we needed the other two sets of results to be confident in these conclusions.
Applying a bit of statistical analysis, we can see that the distribution of these numbers of DNA matches is wholly consistent with our understanding of surnames of Tony's mother's paternal grandparents. The converse of course, is that any other surnames, like Cammack, are relatively improbable, and can be mostly discounted, with the possible exceptions of illegitimacy or adoption.
Documenting SS McCormick's ancestors, armed with DNA matches
When you are researching a family for accuracy, you are looking for documents that are contemporary with the individual and his life events. We had three census records--he's missing from the 1860 census. We had his military record and a headstone that we initially did not believe was his. There may be a second one for him, but its location was not recorded by the persons who claimed to have seen it. There was no obituary, nor a county death record in the county where he last lived, nor in the county and state he may have died, where his wife's father had recently died and she had siblings getting married all within a couple of years. He had no sons, only three daughters. Two of the daughters' names were 'made up,' not anything common or traditional. The first and middle names of his oldest daughter, Amanda Alice were more traditional but not found in any of the known families of his wife's ancestry or immediate family, nor among any with the surnames McCammack (and several variations) or McCormick where he lived in Kentucky. There was thus no naming tradition that he used to help identify his forebears. His widow, Mary Ann, who outlived him and married a second time, was illiterate; she was the only one of her parents' children who had not been to school, and she was the oldest daughter helping her mother to care for the younger children. There was no family Bible record kept by SS McCormick/McCamick and his illiterate wife. We have yet to find one in which his daughters wrote down, early in their adult lives, what they remembered their father and mother telling them.
SS McCormick appears to have been an orphan by 1850 and hired out at the age of 10 or 11 to a childless couple in the community in which he then lived, or was nearby to where he lived. Neither of this couple's family turned out to have ANY McCormick or Cammack marriages. Neither of this couple nor their families were related to him. SS was not in the orphan's court records, though, suggesting he must have had a step-parent who was probably poor and couldn't afford to keep him. This was a poor area of a poor county. There were many illiterate people, and even the local church wasn't keeping good records. It has since been torn down, leaving a large abandoned, neglected and untranscribed cemetery with more than 1,000 known graves. It was lucky for SS that he was placed with William Nichols and his wife Rebecca Saunders, who had also taken in a niece of her own. SS then lived on a decent farm and had good food, and he got an education. He was literate and could read and write by the time he reached adulthood and could then leave for better opportunities. If he had been a complete orphan--no parents, nor any stepparents, he would have had to be placed by the court with a guardian or bound out as an apprentice and his parents would have been named and the costs of his care and education accounted for to the court. It didn't happen for SS McCormick.
Untangling Cammacks from McCormicks
What confounded researchers for some decades was that a line of definite McCormicks and another of Cammacks were in the same area of central Virginia and that these Cammacks were the documented antecedents of the Cammacks/McCammacks in Mercer, Washington and later Anderson Counties, in Kentucky.
At the end of the Civil War, after he'd recovered from wounds, illness and malnutrition, the latter two from a second stint as a prisoner of war, this time at the infamous Andersonville prison, (this was one of the unluckiest soldiers to have endured and survived this war), SS McCormick moved from Kentucky to Indianapolis, IN and then to Madison County, IN. He did not move with any known family members, nor were there any McCormicks or McCamicks near him in either place he lived in Indiana.
When he first moved to Indiana, the nearest McCammacks were in Putnam County, Indiana. These were documented cousins to a particular extended family actually named Cammack/Camac that was in Mercer and Washington County and had been in the same areas where SS McCormick/McCamick lived in Kentucky. What greatly disturbed Celia and three other professional researchers was that if SS had been in Cammack/Camac family some of whose members occasionally went by McCammack, he had dozens of kin in Mercer, Washington and Anderson Counties, literally dozens who could have helped care for him, who could have helped him recover from his war experiences and get an economic start after the war. Even if he had not wanted to be in Kentucky, but in Indiana and wanted or needed the help of Cammack/Camac kin, he could have gone to Putnam County, Indiana where cousins of this family were. He did none of that. There is no firm evidence he ever lived among or was cared for, or helped, by ANY of the Cammack/Camac families. They have no record of him in their own records, and this is a fairly well documented family, with numerous descendants in those same three counties to this day.
Bonus: McCormick Celebrities
Because this family occasionally went by McCammack at least two excellent professional researchers, and several local to this area of Kentucky researchers dug into this family's records, looking to determine if this was one of the missing lines of Virginia McCormicks, descended from Captain James Edward McCormick (1645-1738) a 'hero of the Siege of Londonderry in 1689' and particularly his second wife, Sara McTare/McFare Welsh, since it was the children of that second marriage who emigrated. The Captain's ancestry is now documented back to McCormicks, who as kinsmen and a sept of Clan McDonald, left Argyllshire with the McDonalds when, in 1568, they had returned to Scotland to hire mercenaries and bring in other supporters. By 1641 they were well known as retainers of the Earl of Antrim and his kin and some had likely been among those massacred in the English assault on Sorley Boy MacDonnell/McDonald's children--and his retainers, on Rathlin Island in 1585. Sorley Boy had gone to his family's lands in Argyllshire to recruit his men in 1568. The McCormicks settled in the long-time Irish lands of the McDonalds/McDonnells, in the 'Glens of Antrim,' not far from where Sorley Boy himself was born, raised and later died in 1590. Hugh McCormick (1570-1635) lived at Dumnakelter in County Antrim and was documented, along with his son, Thomas, as a McDonald's man. Hugh's father, and other McCormicks, were among those who arrived in Ireland with Sorley Boy McDonnell to defend the McDonnell lands in 1568. Captain James McCormick was a grandson of that Hugh McCormick, a son of one of Sorley Boy's followers. Clan McDonald identifies the McCormicks of Antrim as kinsmen and a sept of Clan McDonald and acknowledges they were retainers of the McDonalds/McDonnells. There were several sons of Captain James McCormick and his second wife who survived to adulthood, married and who Cyrus McCormick's hired researchers found had eventually emigrated: Hugh b. 1695, Dr. John Isaac McCormick (1698-1768--VERY well documented), Thomas (1702-1762), Samuel b. 1704 and Benjamin b. 1705/6. Hugh, Dr. John Isaac, Thomas and Benjamin are documented, but Benjamin had two wives and only his second wife and half of his children, those by his second wife, all born after 1754, are known. Nothing is online about Samuel. Yet, it is clear from Virginia records that sons of at least two more of John Isaac McCormick's brothers were in Virginia by the 1750's and they are not the sons of the best documented two, who left wills and probate records, and other records. Note that daughter Mildred Jennet McCormick, born 1706, Ballentory, Antrim, Northern Ireland 50, is known to have died in 1771, in Frederick County, Virginia. Another daughter of Captain James McCormick, Sarah is known to have been born 3 Sept., 1700 in Ireland, married and died "just before 1794," but not much else, as per research from the Ulster Historical Foundation who found most of the actual birthdates of the Captain's children by his second wife, Sarah.
So who were these McCammacks / Camacs, anyway? Where they actually McCormicks, one of the missing lines from one of the less documented sons of Captain McCormick? They were not McCormicks. Two researchers, Mary Gregg and Patrick Piersey, found documents in Spotsylvania and Richmond Counties Virginia indicating the Cammacks were indeed Cammacks, and were descendants of a very ENGLISH family of Cammack/Cammock, headed by Warwick Cammack who even had a brother named Sussex Cammack/Cammock in England who left a legacy to his brother and his brother's children. Mary Cammack, one of Warwick's daughters, had been a naughty girl and had an illegitimate son before she married a Stern who chose to raise that child but not under the Stern name, but his wife's maiden name--Cammack. The child was William Cammack (1698-1783) born in Richmond County, Virginia, who went to Spotsylvania County and had four sons there and left a will and many other records, starting in 1754. His oldest son, Francis Cammack, and another son, Henry, also left wills. From these we all learned that Francis' son, John, married Nancy Ann Miller in nearby Caroline County, and sold his inheritance in 1791-2 and moved to Kentucky, along with his younger brother Francis. This is the ancestry of the Cammack line.
Confusion particularly erupted when John Cammack (1743-1835), who was largely illiterate, allowed himself to be recorded in his Revolutionary War service as McCammack. After his death in the 1835, his widow applied for a pension, but was denied because she applied under Cammack and not McCammack. Neither herself nor her children, several of whom made depositions on her behalf, were aware of this surname confusion! It was finally resolved, but not for over ten years! Again, this confusion partly resulted from a lack of family records because John and his wife were illiterate and kept very few, if any records, since they could not read them!
Also, in the Mercer and Washington Counties of Kentucky, there was also a specific McCormick family whose earliest members in this area had come from Frederick and Jefferson Counties, Virginia. About 1781, George McCormick (1742-1820) arrived in what was then Lincoln County, KY in the area that later became Mercer County, KY. In 1782, George took Mary Chaplin as his second wife. Mary's family had settled in both Mercer and Washington County, and Chaplin Creek mostly in Washington County, and very near where S.S. McCormick was born and raised. In this area, there were a few descendants of George, at the same time SS McCormick was living there. Most of George's descendants are documented, but not quite all. Additionally, there is the possibility that, like John Cammack, George McCormick arrived in the area with another brother who is less well documented. At least one brother of George also disappeared from Frederick/Jefferson County when George did, a brother named John. We know that there were at least two contemporary John's in the same counties at the same time. The McCormicks, unlike the Cammacks/Camac's had far fewer descendants who remained in these three counties. A large number of them went to Missouri. George's second son, George Jr., born in 1770 in Virginia, went to Ohio and his children and grandchildren lived there. We don't have complete documentation on his own oldest son, John, born in 1768 in Virginia, died--date and place unknown. We know that George also had a brother named John born either a couple of years before or after him who left few records in Virginia, suggesting he had also left that state.
Next Steps
We now are left with two approaches. #1. Laboriously finding all the possible bits of records in poor counties of a poor state that had largely discarded literacy, even for ministers to identify all the descendants of ALL the sons of George looking for just that one that had one son and then died, at a time when most of his siblings and nephews were almost all leaving this area. #2. Alternatively, we can hope to find a 4th-6th cousin who ONLY shares McCormick ancestors with Tony.
If we find the alternative #2 cousin, we can use that cousin's documented McCormick records to trace the siblings of his/her ancestor forward to find the one who had one son and died before 1850 in Washington County, Kentucky, and he would be SS McCormick's father. Given the lack of civil and church records, and the abandoned, neglected cemetery, and lack of Tony's own ancestors' family records, #2, is our best hope and that's why we had Tony tested with all three major DNA testing companies.
This past week, we thought we found that cousin, but unfortunately she didn't have documents or complete trees for her ancestors and the cousins to whom she referred us for these and other documentation, had not made them public and had not been visible on the internet for over a year. So the search goes on...